I Love ISU scholarship campaign exceeds goal, raises $280,285 for Idaho student scholarships
September 13, 2018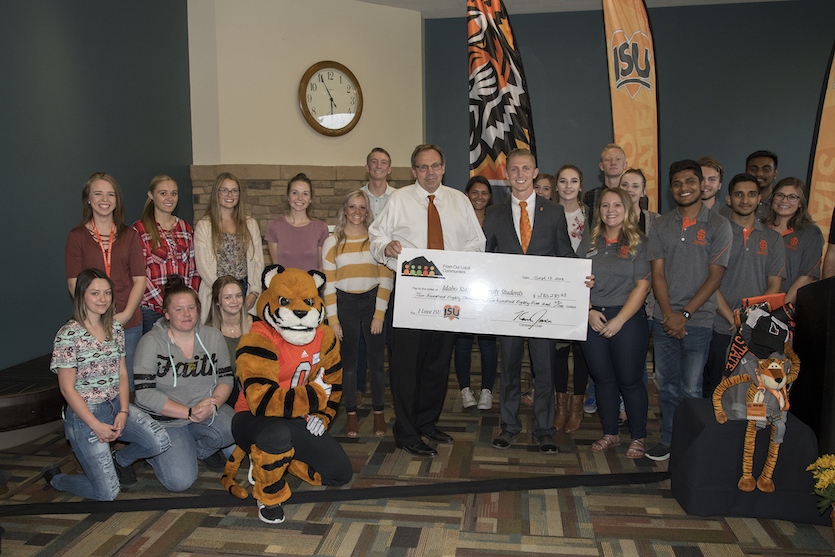 POCATELLO — The 2018 annual I Love ISU scholarship campaign concluded Thursday, Sept. 13, raising $280,285.63 in pledges for scholarships for Idaho students.
This year's total exceeded this year's goal of $275,000 set for the campaign.
"Once again the community stepped up and supported scholarships for Idaho students," said 2018 I Love ISU Chair Kevin Jones, head of loss mitigation at ISU Credit Union. "We want to thank each and every donor and all the volunteers who helped with this effort. These contributions provide essential support for the scholarship recipients and benefit our entire community."
The I Love ISU campaign has been conducted in Pocatello for 36 consecutive years. This annual campaign is the most recognizable fundraising effort at Idaho State University. Volunteers dedicate their time to contacting local business owners, alumni and ISU employees requesting their support for scholarships. This year's I Love ISU Co-Chair is Richy Gaona, general manager of the Pocatello La Quinta Inn and Suites.
"Each person that contributes or participates throughout the campaign has been affected by the scholarship money in multiple ways," Gaona said. "Each story and perspective touches the hearts of everyone involved directly with I Love ISU."
More than 200 volunteers gathered pledges through weeks of peer-to-peer contacts and other activities.
The winner of this year's C. Moore Bucks Cup, a prize given to the calling team that had the most pledges committed, went to the Idaho State Journal, which received 165 pledges. The Pocatello Rotary Clubs raised the most funds, collecting more than $29,000.
Calling teams consist of community members and ISU faculty and staff. The campaign included Pocatello, Chubbuck, American Falls, Blackfoot, Idaho Falls and surrounding communities.
"We'd like to send a giant Bengal thank you to all the donors who so generously supported the campaign and to the volunteers who worked so hard to help us exceed our goal," said Kallee Valentine, ISU annual giving director. "All this effort and money raised will ultimately benefit students."
Last year in 2017, I Love ISU raised $253,773 in pledges for scholarships for Idaho students.
This year's announcement was made at the I Love ISU Campaign Celebration and Pocatello/Chubbuck Chamber of Commerce Business After Hours held Thursday, Sept. 13, at the Pond Student Union Ballroom. Food and beverages were sponsored by the University Financial Group. Other sponsors of the I Love ISU campaign include Idaho Central Credit Union, ISJ Media and the ISU Alumni Association.
For more information on the campaign, or to give a gift, visit iloveISU.org or contact Kallee Valentine at (208)-252-0515 or valekall@isu.edu.
---
Categories: