I Love ISU scholarship campaign benefits people like fifth-generation ISU student Cal Norby
September 13, 2018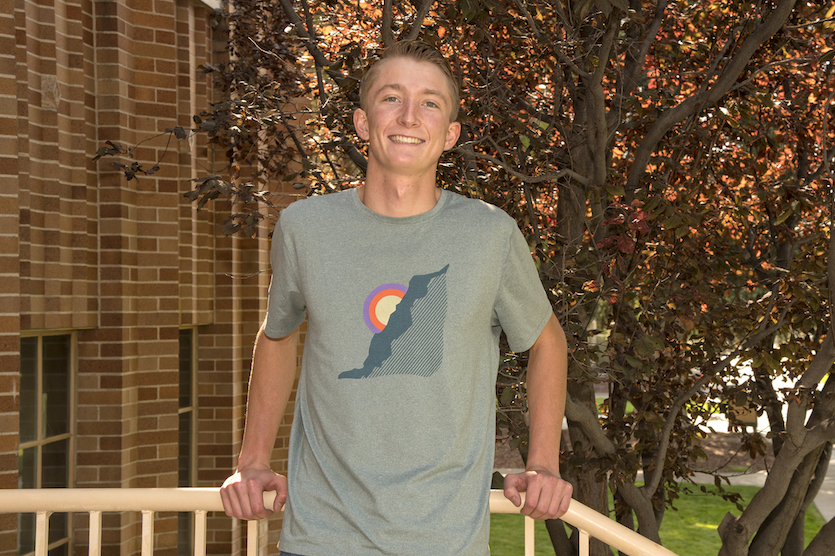 POCATELLO — The annual I Love ISU scholarship campaign, which concluded Sept. 13, gives to local students who love Idaho State University. A case in point is Callan 'Cal' Norby, a 20-year-old, fifth-generation ISU student from Pocatello who is a junior majoring in chemistry with a minor in mathematics.
He was recognized at the 2018 I Love ISU Celebration Sept.13, where it was announced that the campaign received $280,285 in scholarship pledges, exceeding its goal of $275,000 this year.
"ISU is ingrained in my family and it is pumping through our blood," Norby said. "We've been here basically since the beginning of the school. It opened up in 1901 and nine years later Ed senior was here and the Norbys haven't left since."
Ed, Sr., was Cal's great-great grandfather. He entered ISU in 1910 and played six sports, landing him two mentions in the history book, "Idaho State University, A Centennial Chronicle." Next came Ed, Jr., his great-grandfather, who also played football. Ed junior's son and Cal's grandfather, Craig, came next and also played football. Cal's dad, Aaron, also attended ISU and was a receiver for the Bengal football team. Cal's mom, Jill Johnson, ran track and field at ISU and his aunt, Jackie Czerepinski, is a former ISU instructor
And now, there is Cal, and his younger brother, freshman Ian, attending ISU.
Cal said he is grateful for the support from the I Love ISU scholarship. As a current Junior, Cal has received a total of $3,000 from the I Love ISU Scholarship program and will receive his final $1,000 next year.
"Having any money to go towards school is really, really helpful in and of itself," Cal said. " To be honest with you, I have always been a pretty driven person, I do what I do because I love it. I would have come to ISU anyway, but the scholarships help because they take a weight off your shoulders. Any financial assistance whatsoever is helpful."
That assistance from I Love ISU has helped Norby discover his passion and career path – chemistry research. He started out as a biological sciences major, but switched to chemistry his sophomore year after completing two basic chemistry courses and one in quantitative analysis. He has been working in chemistry Professor John Kalivas's laboratory ever since.
"I love the chemistry program," Norby said. "In my opinion it is the best chemistry program in the state because of its emphasis on undergraduate research."
Norby spent eight months in the laboratory being trained before starting an independent research project this fall. His training included learning linear algebra with the help of Kalivas, and coding with linear algebra on the MATLAB engineering software the laboratory uses.
"I am doing an independent research project right now working on a model-updating project, writing code for things called 'similarity measures,'" Norby said. "We are trying to enhance our modeling techniques to make models that can make better predictions, that ultimately save people money so they don't have to do laboratory analysis."
Norby said he'll "definitely get a paper out of this," published in a scientific journal. One of his undergraduate classmates has published five papers, three as the main author, in top-tiered chemistry journals.
"It is just an absolutely amazing opportunity we have as chemistry students here at ISU," he said. "Being given this opportunity is awesome and I think that undergraduate students around the country don't get exposed to as much research as they should, that is independent and hands-on, like it is at ISU. I think early exposure like this is extremely important to creating a good scientist and ultimately someone who is going to have a high impact on the field."
Scholastics aren't the only things Norby values at ISU. He has been active in three student clubs, the American Chemical Society student chapter, the Rock Climbing Club and the American Fisheries Society's ISU student chapter, and he is a former ISU Ambassador and employee for the ISU Student Activities Board.
"This is the place for me. I love ISU and I love Pocatello," Norby said. "I am a very outdoorsy person: I love to ski, I love to mountain bike and I just like having the access to outdoor recreation. Every morning I go ride my bike. I just leave out of my garage and ride up above my neighborhood up into the mountains. That's my morning wake-up ride."
After completing his undergraduate degree, Norby said he plans to pursue a Ph.D. in chemistry and to become a professor.
For more information on the I Love ISU campaign, or to give a gift, visit iloveISU2.org or contact Kallee Valentine at (208)-282-2994 or valekall@isu.edu.
---
Categories: