Biological sciences major Cody Feldman is ISU Career Path Intern of the Month for August
August 15, 2018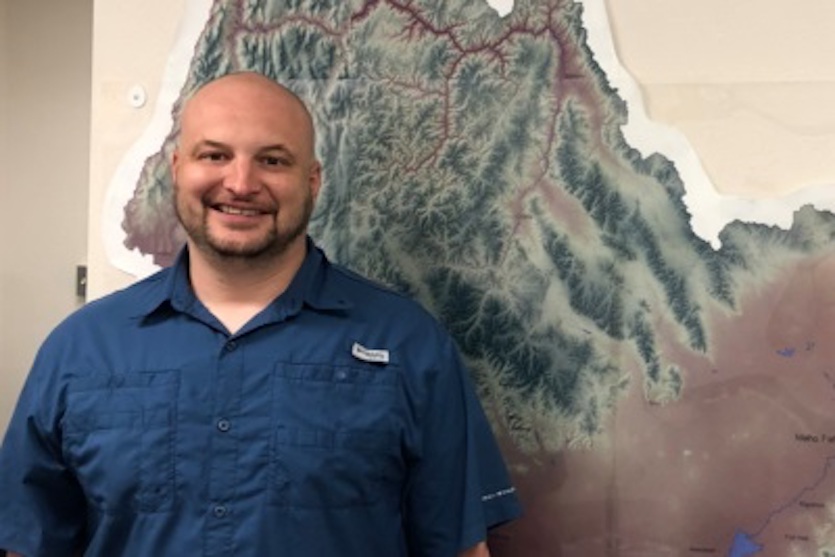 POCATELLO – Cody Feldman has been named the Idaho State University Career Path Intern for the month of August by the ISU Career Center.
Feldman, who is scheduled to graduate in December with a Master of Science degree in biological sciences, has been working as a Career Path Intern in the ISU GIS Training and Research Center. He has focused his time there on the NASA RECOVER project. This project provides real-time information on wildfires across the United States through state-of-the-art cloud-based data management technologies.
Information provided by the RECOVER project assists the Bureau of Land Management, the U.S. Forest Service, the National Park Service, and the Idaho Department of Lands reduce the costs and impacts of wildfires as well as provide data that can potentially lessen the impact of future wildfires.
"Cody is professional and very effective in his work," said Keith Weber, director of the GIS Training and Research Center and Feldman's supervisor. "He is monitoring wildfire activity across the western U.S., automating processes to speed up our internal tasks and routinely processes satellite imagery that describes the severity of wildfires. He is an integral part of my NASA RECOVER team."
Feldman has thoroughly enjoyed his time as a Career Path Intern with the GIS Training and Research Center.
"I have gained great experience in this internship," Feldman said. "I have had great mentors including Dr. Ernest Keeley and Keith Weber. I would not be where I am today without their support."
In his spare time, Feldman enjoys being in the wilderness. He is an avid fly fisherman and is often found camping in the Intermountain region. After graduation, Feldman intends to move to Alaska to pursue a fieldwork position that will allow him to be in the great outdoorss
---
Categories:
College of Science and EngineeringStudent LifeUniversity News