Accounting Professor Bob Picard named TIAA Difference Maker
October 25, 2018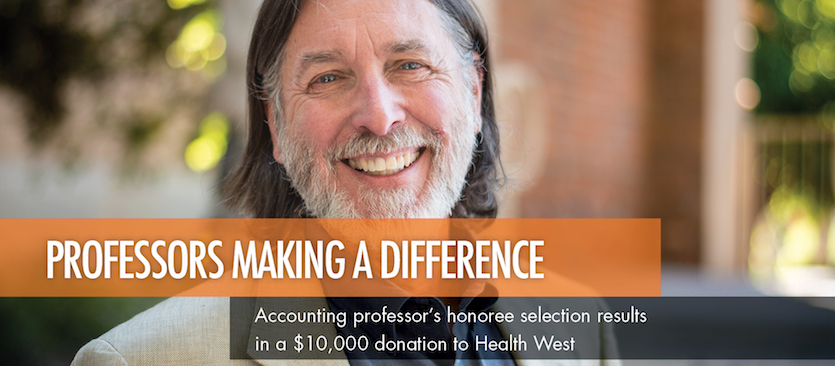 POCATELLO – Idaho State University accounting Professor Bob Picard was recently named a TIAA Difference Maker 100 Honoree for his work with area nonprofit organizations including serving as the corporate treasurer and a board member of Health West, Inc., a community health center consisting of nine health clinics serving Southeast Idaho.
As a result of Picard's selection, Health West will receive a $10,000 donation from TIAA as part of their $1 million campaign for promoting "a better tomorrow."
TIAA, a leading provider of financial and investment services for academic, medical, and government organizations, introduced the "Difference Maker 100" program to support and honor the impactful work of 100 employees of not-for-profit colleges, universities, and other education and research institutions who have made a difference in a not-for-profit organization.
The program, a celebration of TIAA's centennial, allows individuals from across the country to self-nominate and be judged by TIAA based on the work they have done and the impact their not-for-profit organization has made.
Picard began serving on Health West's board in early 2013 after being approached by Adam Waldron, Health West's board chairperson and a College of Business graduate.
"It was an easy 'yes,'" said Picard, who had already been familiar with Health West's important role. "I believe in the organization's mission and I believed there was a lot that could be done to expand access to quality health care in the area."
Health West, Inc. is a local community health center with a network of nine clinics located in Aberdeen, American Falls, Chubbuck, Downey, Lava Hot Springs, Preston and Pocatello. These clinics provide quality dental, family medicine, and behavioral health services to patients regardless of their ability to pay. One of Health West's clinics, located on the ISU campus, also houses the University's medical residency program in addition to providing community health care services.
Picard, first hearing about the program from his TIAA retirement counselor, felt that Health West and his role in the organization was a good fit.
"I found that if my nomination made it to the final 100, Health West was in line to receive a significant grant from TIAA, which was very appealing," Picard said. "My hope is that this award will help Health West spread the word about the high quality primary healthcare services that we provide, regardless of patients' ability to pay for those services. We all need access to high quality basic health care and Health West provides that access."
"I have always viewed quality health care as a fundamental human right in a highly developed progressive society," said Picard in his nomination. "Participating in our continued progress, seeing the providers and staff live our mission, hearing the overwhelmingly positive feedback from our patients, and experiencing firsthand the quality of care provided by Health West energizes me to continue this work."
The other 100 honorees and their stories can be viewed on the Difference Maker website at TIADifferenceMaker100.org.
---
Categories: