48th annual ISU Women's Club Holiday Fair is Nov. 9 and 10
October 24, 2018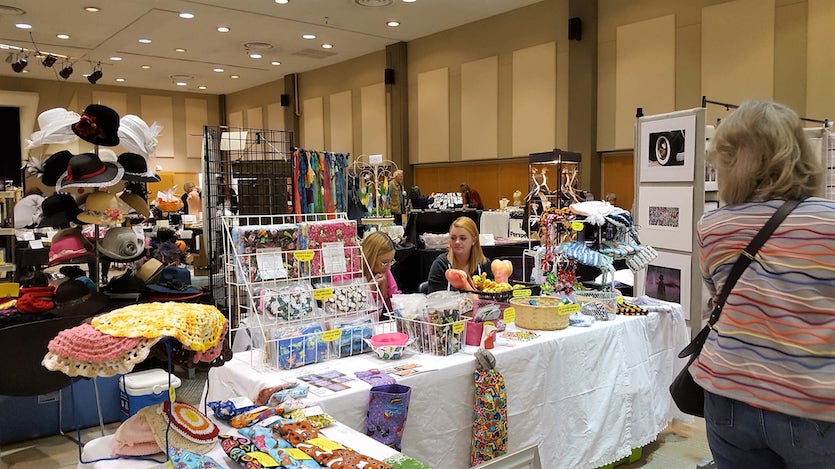 POCATELLO – The 48th annual Idaho State University Women's Club Holiday Fair will be held Nov. 9 from 10 a.m. to 6 p.m. and Nov. 10 from 10 a.m. to 4 p.m. in the ISU Pond Student Union Ballroom.
On Friday, Nov. 9 from 11 a.m. to 2 p.m., the traditional enchilada lunch with homemade desserts will be provided for hungry shoppers and vendors. This luncheon is sponsored by our friends at Idaho State University Credit Union, which allows all proceeds from the lunch to go directly toward scholarships.
Free parking will be available at the Pond Student Union parking lot, and there is no admission fee.
This year, the Holiday Fair will have 41 vendors to help make your holiday shopping easier by offering a wide array of one-of-kind handcrafted, locally made items.
Community vendors will offer unique, locally-made essential oils, hammocks, pottery, jewelry, holiday crafts, artwork, quilts, stained and blown glass art, photography, fine art, home and fashion accessories, and more for sale.
The ISU Women's Club booths, Heartfelt Creations (handicrafts and homemade baked goods by club members, faculty and staff, and friends), Upscale Resale (gently used items), and the Raffle, which includes a variety of gift baskets, a beautiful handmade quilt, and other prizes, provide something for every taste and pocketbook. The ever-popular Holiday Gift Basket Silent Auction will take place on Nov. 9 only.
All community vendors will donate 20 percent of their profits to student scholarships, while booths hosted by the ISU Women's Club will donate 100 percent of their profits to scholarships.
Susanne Forrest, publicity chair for the ISU Women's Club, invites the campus and wider community to come to the fair.
"We would like to cordially invite all ISU faculty, staff, students, alumni and friends in the community to start their early holiday shopping at the fair to help us reach our goal of raising enough money to fund at least three $3,000 scholarships," Forrest said.
"Giving the gift of education is the gift that keeps on giving," she added.
Thanks to the funds raised by last year's Holiday Fair, the Women's Club was able to provide three $3,000 scholarships to ISU students.
This event is hosted by the ISU Women's Club, the oldest organization on campus, established in 1923.
Volunteers for this event are needed to donate crafts or baked goods, volunteer at a booth and help serve lunch.
For more information, or to volunteer, contact Forrest at (208) 282-4062 or forrsusa@isu.edu.
---
Categories: