2018 I Love ISU Campaign kicks off Aug. 31 at Bengal football game
August 23, 2018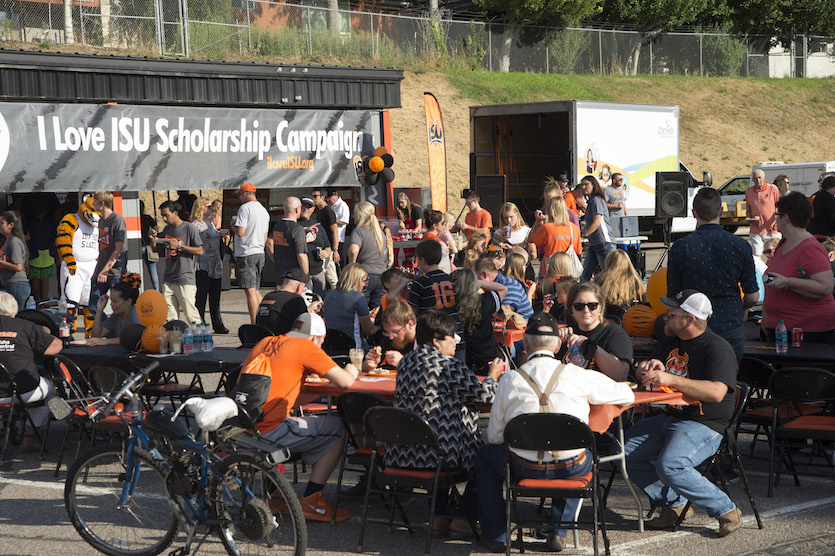 POCATELLO – The 36th I Love ISU Campaign kicks off with fun and football at 5 p.m. Aug. 31 with a tailgate celebration and ribbon-cutting on the ICCU Practice Field, prior to the Idaho State University football game against Western State Colorado University.
The football game begins at 6:35 p.m. but the public is invited for pre-game activities at the new ISU Alumni Tailgate. The ribbon-cutting ceremony starts at 5:30 p.m. Food and beverages are available for purchase.
The 2018 campaign runs Aug. 31-Sept. 13 and includes a variety of activities.
Last year, more 252 business and 845 individuals participated in the annual event to raise money for scholarships. This year's campaign is led by Chair, Kevin Jones, head of loss mitigation at ISU Credit Union, and Co-Chair, Richy Gaona, general manager of the Pocatello La Quinta Inn and Suites. The campaign goal is simple; provide scholarship opportunities to Idaho students. This year's goal is to raise $275,000 in scholarships for deserving students.
Each year, more than 200 volunteers pick up the phone to dial community businesses and alumni. During September, an average of 3,500 phone calls will be made.
"Volunteers are the driving force behind all the extraordinary feats that are accomplished during this campaign each year," Jones said. "Without their efforts and commitment, many people would miss the opportunity for higher education. Our volunteers do more than donate their time. They offer their love and care to every student that is affected by this campaign. No matter how big or small their role might seem, each piece helps build a better tomorrow."
A number of businesses have already donated to the scholarship campaign, including: Idaho Central Credit Union, University Financial Group, Idaho State Journal, Bank of Idaho, Idaho Power, Fairfield Inn, Wealth Strategies LLC, and La Quinta Inn & Suites.
Originating in 1982, the I Love ISU Scholarship Campaign was established by the Pocatello-Chubbuck Chamber of Commerce as a way to raise scholarship support for college-bound students in Idaho. This annual campaign is the most recognizable fundraising effort at Idaho State University.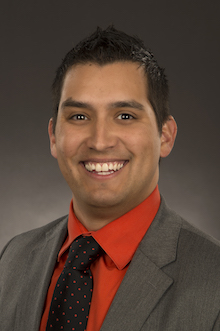 "ISU students are at the heart of the I Love ISU campaign," Gaona said. "They are the reason we work with the community each year to fund scholarships which are critical to the success of so many local students. They are a driving force behind our fundraising efforts."
Gaona said many former and current beneficiaries of the program help move the campaign forward and contribute to its success both financially and otherwise. Throughout the year, students also keep the campaign alive through the efforts of the ISU Foundation call center.
"With the help of students on campus, the I Love ISU Campaign continues to thrive and strives to provide affordable education to hundreds of students each year," Gaona said. "We appreciate their efforts and all who volunteer and contribute to the ISU Foundation's success."
I Love ISU events include:
• August 31 – Campaign kick-off and ribbon cutting at theISUAlumni Tailgate. Ribbon cutting ceremony starts at 5:30 p.m.
• Sept. 5 – Idaho Falls calling campaign. Teams of volunteers will make calls to raise funds for student scholarships in the Idaho Falls area.
• Sept. 7 –I Love ISU will be the focus of the monthly Pocatello-Chubbuck Chamber of Commerce meeting running from 11:30 a.m. to 1 p.m. at the Clarion Inn.
• Sept. 10-13 – Pocatello, American Falls and Blackfoot calling campaign. Teams of volunteers will contact these communities to raise funds for student scholarships.
• Sept. 13 – After HoursILove ISU Celebration from 5 to 7 p.m. at the ISU Pond Student Union Ballroom. Food provided by D.L. Evans Bank and beverages courtesy of Watkins Distributing.
For more information or to make a donation, visit iloveisu.org or call Valentine at 208-282-2994.
Photo information: Middle photo, Kevin Jones; bottom photo, Richy Gaona.