Pocatello Martin Luther King Jr. events include NAACP luncheon, fellowship service and ISU Martin Luther King Jr. march and program
January 6, 2017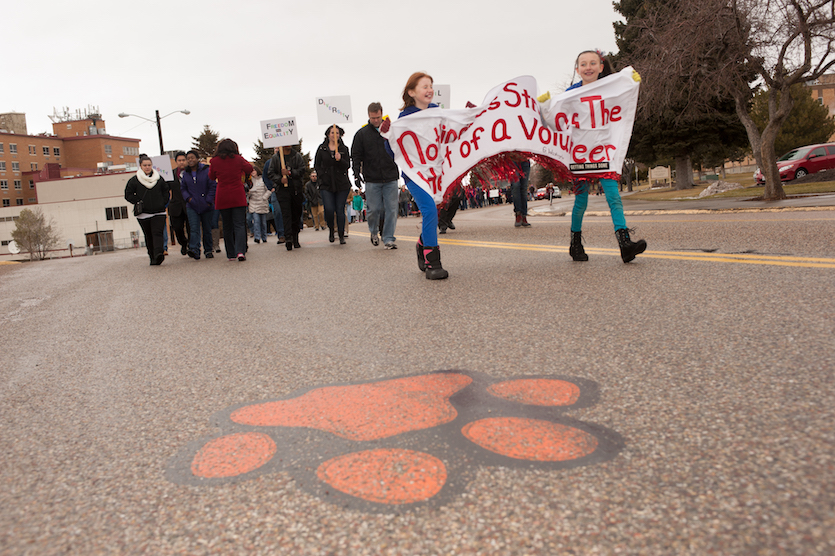 POCATELLO — Pocatello community events planned honoring Martin Luther King Jr. Day include an NAACP luncheon on Jan. 14, a Portneuf Valley Interfaith Fellowship service on Jan. 15 and Idaho State University's annual march and program on Jan. 16.
The NAACP luncheon on Jan. 14 has the theme "Making Lives Matter: Where Do We Go from Here?" at noon in the ISU Pond Student Union Wood River Room. Tickets, for a suggested donation of $25 for adults, $17.50 for students and $12.50 for children under 13, are available at The Grapevine, College Market and Main Street Coffee and News. RSVP by Jan. 13 to 208-478-2150 or pocatellonaacp@live.com.
The Portneuf Valley Interfaith Fellowship service will be held Jan. 15 at 5:30 p.m. at the Central Christian Church on the corner of Eighth Avenue and Center Street. It will feature guest speakers Bishop Samuel and Mona Kasah Heern and music by ISU Children's Select Choir.
The Idaho State University Martin Luther King Jr. march and program beginning at 1 p.m. Jan. 16 beginning at the south side of Holt Arena and ending at the L.E. and Thelma E. Stephens Performing Arts Center.
The speaking portion of the event will begin at 1:30 p.m. in the Stephens Center Marshall Rotunda. The theme of the event is "The Promissory Note: We've Come to Our Nation's Capital to Cash a Check."
The event is sponsored by the ISU Office of Equal Opportunity, Affirmative Action, and Diversity, and the ISU Diversity Resource Center, with support from a variety of ISU and community groups. Transportation will be between the Stephens Performing Arts Center and Holt Arena.
The program's keynote speaker is ISU student Taylor Ramos, delivering the speech "We are Still Fighting for the Future." The ISU ROTC Color Guard will lead the march and present colors. ISU student volunteers will present famous passages spoken by Sitting Bull, Rosa Parks, Malcolm X, John Kennedy, Shirley Chisholm and other notable Americans.
Thirteen flags will be flown, including those of branches of the U.S. Armed Forces, ISU student groups, the ISU flag and others.
For more information on Martin Luther King Jr. Day events, contact Ram Eddings, coordinator of the ISU Diversity Resource Center, at (208) 282-3142 or eddirans@isu.edu.
---
Categories: