Jonny Fisher named "Idaho Business Leader of the Year"
January 19, 2017

Founder and Owner of Textbook Exchange is the 58th honoree.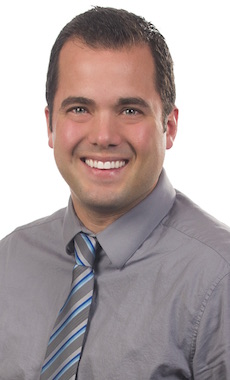 POCATELLO – Jonny Fisher, founder and owner of Textbook Exchange, has been named the 2017 Idaho Business Leader of the Year by the Idaho State University Alpha Kappa Psi, Delta Upsilon chapter, the professional business fraternity.
Fisher will be recognized at a dinner in Pocatello on Thursday, March 16.
The award annually recognizes an Idaho business leader who has demonstrated outstanding business and professional ethics while contributing significant support to worthwhile community, civic and education activities. Awarded by ISU College of Business students since 1959, previous honorees have included a congressman, former governors, entrepreneurs, and leaders of some of Idaho's largest companies. The recognition program is the longest-standing one of its kind in Idaho.
Fisher started Textbook Exchange with his brothers Jason and Jared in 2001, after noticing how they and many of their fellow students were unhappy with the prices of textbooks. Fisher is now owner of several Textbook Exchange stores throughout southern Idaho, with locations in Pocatello, Boise and Nampa.
Despite competing with large textbook retailers like Amazon and Chegg, Textbook Exchange, under Fisher's leadership, maintains a strong local and online presence for Idaho students. The Pocatello location often supports ISU clubs and groups both financially and materially, and is a strong presence in ISU homecoming activities.
Fisher graduated from Idaho State University with a degree in finance in 2006. He also works alongside his parents in the family's Fisher Realty Group under Keller Williams.
Fisher's philanthropic efforts are second to none. He led the greater community in completing the Brooklyn's Playground Project, an all-accessible playground in Pocatello. With help from many citizens and groups of Pocatello and affiliates of ISU, the playground was completed in just over six months and is a testament to Fisher's leadership, drive, high ideals and commitment to improving his community. He now presides over Brooklyn's Buddies, a committee for the long-term care of the playground and its adaption to the needs of more and more children. Fisher is also a board member of the community care organization Portneuf Valley Pride.
Fisher lives in Pocatello with his wife of 13 years, Melissa, and their three children, Brooklyn, 10, and the playground namesake, Leah, 7, and Hayes, 3. He enjoys taking trips, skiing, surfing and generally being outdoors with his family.
Individual tickets to the March 16 banquet, as well as event sponsorships, are available.
For more information, contact Alpha Kappa Psi's executive board directly at akpsideltau@gmail.com, or Erika Cook, chapter president, by email at cookerik@isu.edu or by phone at 208-901-9440.
---
Categories: