ISU's National Student Advertising Competition Team takes top honors at district competition
May 3, 2017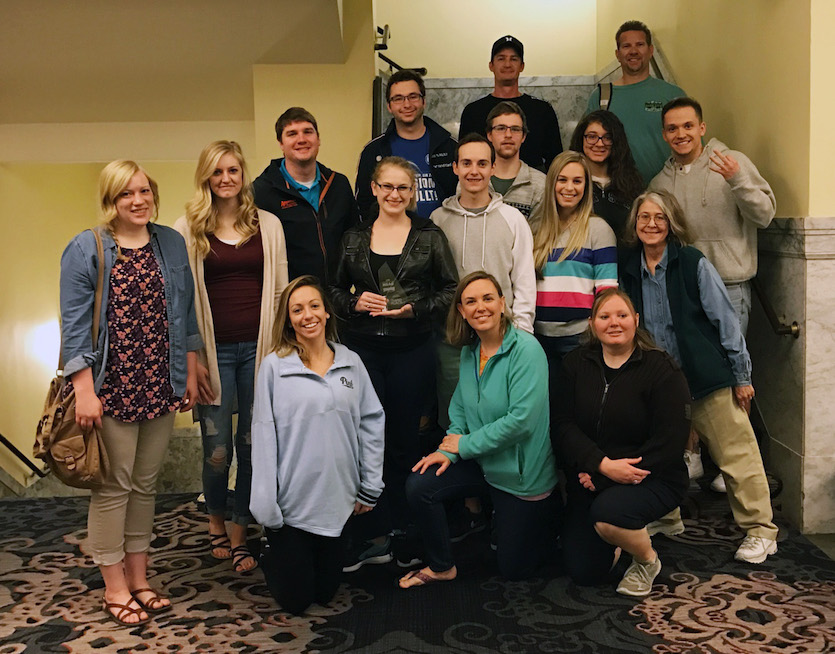 POCATELLO – Idaho State University's National Student Advertising Competition team placed in the top three in the District XI regional competition held in late April in Portland, Oregon.
ISU competed against six other teams from Idaho, Washington, Montana and Oregon. This is the second consecutive year they have placed in regionals.
The team also brought home three coveted AdStar awards, which are chosen by the other students at the competition. These awards include "Best Campaign Theme or Slogan," "Best Female Presenter" for student Morgan Hurley and "Best Media Plan."
"The team put more hours into this campaign than I can even begin to count," said Emily Crighton, one of the team's account executives. "I know it's hard to see the payoff when you're working on the project at 4 a.m. over spring break, but we wouldn't have performed as well as we did without all the hard work. To see those hours pay off was very rewarding."
The team is led by advisors Professor Martine Robinson Beachboard and Rick Magnuson of MSVM Group. Participating students were from the communication, media and persuasion department in the College of Arts and Letters, as well as from the marketing department in the College of Business. The students involved in the effort were: Amanda Bennett, Thomas Brumpton, Emily Crighton, Mike Day, Nicholas Ditzig, Hailey Dugan, Levi Gribas, Morgan Hurley, John Kenison, Kryshawna Muse, Josey Overfield, Kyle Peterson, Rebekah Punt and Missy Turner.
The students spent their semester preparing a yearlong, national advertising campaign for Tai Pei, an Ajinomoto Windsor frozen food brand. In addition to preparing a plans book that included details for a $15 million campaign targeted toward millennials, the team also prepared a 20‑minute pitch to present to professional advertising industry judges.
The National Student Advertising Competition, in association with the American Advertising Federation, is the premier college advertising competition in the nation. It provides more than 2,000 college students the real-world experience of creating a strategic advertising/marketing/media campaign for a corporate client. Students develop a marketing plan and then pitch their work to advertising professionals at the district, semi-final and national levels.
---
Categories: