ISU's Kirk Long - future president of Mars begins work as StarTalk's newest intern
February 9, 2017
Scarlett Smith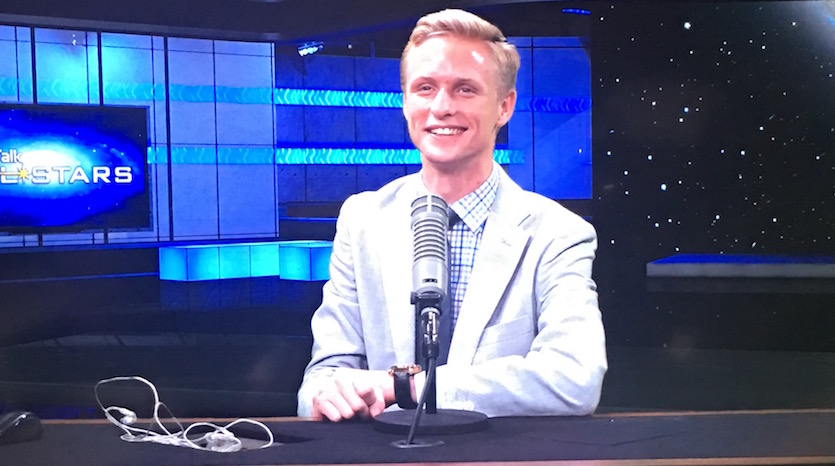 POCATELLO – It was Kirk Long's occupation as "Future President of Mars" that first caught astrophysicist Neil deGrasse Tyson's eye.
Long, an ISU physics student and Boise native, had reached out to Tyson's radio and television show "StarTalk" in the past about a possible job without success. It wasn't until his mother got him tickets to Tyson's traveling lecture that included a backstage meet and greet did the ball really begin to roll.
"My mother jokingly suggested that I should take my resume to try and get a job with him." said Long.
Upon meeting Tyson, the two clicked and the TV host urged Long to again contact StarTalk and assured him that someone would be in touch with him. Long gave Tyson his resume, which listed his occupation as the Future President of Mars.
"Dr. Tyson urged me to send it on to Jeff Simons, my now-direct boss at StarTalk, who responded the next day saying 'Now that I know you'll be the future President of Mars, let's talk,'" Long said.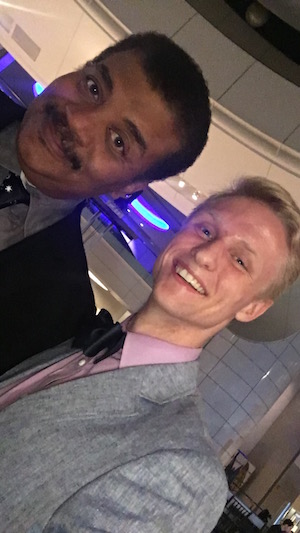 Tyson is a celebrity astrophysicist, cosmologist, author and science communicator, not unlike a Carl Sagan or a Bill Nye. As the host of "StarTalk," Tyson intersects between pop culture and science.
Long aspires to follow in Tyson's footsteps.
"Any physicist you talk to will be a smart person. However, a lot of what they say might be too technical and go straight over the average person's head," Long said. "It takes a lot of work to be able to remember what it was like before you understood something, and to be able to explain things with that mindset."
Long now assists with "StarTalk's" social media by writing blog posts and occasional tweets. This promotes the show while helping to build his personal brand. Long is currently working on a blog post about his latest trip to New York to visit Tyson.
"I wanted an internship that would hone my communication skills," Long said.
Long, who is on a full academic scholarship at ISU, minors in mathematics and piano. Along with his busy class schedule he has found time to find his higher learning niche. Long is a part of the Honors Program and last semester he helped edit an APA journal with an honors professor he connected with titled, "Administrative Issues Journal: Connecting Education, Practice and Research." He is also an intern for the Honors Program this semester and an honors mentor.
"ISU has really made college affordable and I like to be involved here," Long said.
For the past two years, Long has hosted astronomy night at ISU, where he gives a lectures, similar to what Tyson does, and then shows students objects through telescopes.
"That originally started as a class project for an honors class I was taking, but now it's something I hope to do every year. It's been well attended, with around 150 people both years," he said.
Long plans to get his doctorate in astrophysics and is considering places like the University of Utah or Columbia University in New York.
"My end goal it to be a science educator like Tyson," hesaid. "A lot of people get scared by math or physics, but for the average person to be literate about the concepts isn't too hard. That's what I'm really passionate about."
"I fully expect to see Kirk on TV or a podcast someday, being a science educator," Jeffrey Simons, "StarTalk" Radio's social media director said.
"As a student studying to someday do what Dr. Tyson does, it's incredibly valuable to be able to be anywhere near his orbit," Long said.
For more information on "StarTalk" visit https://www.startalkradio.net/. To read Long's blog visit https://www.startalkradio.net/osiris-rex-liftoffs-september-8th/?_sf_s=Kirk.
---
Categories: