ISU's January Career Path Intern of the Month is Michael Beseris
January 25, 2017

POCATELLO – Idaho State University's Michael Beseris was named the Career Path Intern (CPI) for the month of January by the ISU Career Center.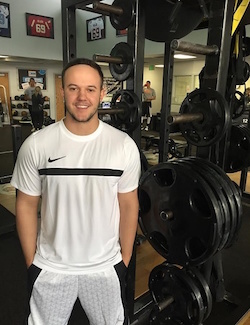 "It's a brand new year, and the CPI Program felt that we should start the year off strong," said Ambri Saighman, ISU CPI director. "It's only fitting that the first CPI Intern of the Month for 2017 be Michael Beseris, a strength and conditioning coach. "
Beseris, a senior sport science/physical education major, has been working as a CPI in the Jared Allen Strength and Conditioning Center since fall 2015. His main duties revolve around keeping ISU's student athletes in peak condition through strength and conditioning routines. Beseris's passion for sports led him to the exercise science degree. A Pocatello native, Beseris enjoys working with a variety of different sports including cross country, football and basketball. He is considering continuing his education past his expected graduation in spring 2017.
"I am looking into master's programs for athletic administration," Beseris said.
For more information about the CPI program, visit http://www2.isu.edu/career/.
---
Categories: