ISU's Got Talent winner and new graduate Jedd Greenhalgh makes mark creating music
May 4, 2017
Melissa Lee, College of Arts and Letters
As a senior at Kuna High School, Jedd Greenhalgh decided to audition for Idaho State University's music department as a way to get out of a mandatory science expo and never looked back. Since starting at ISU in 2013, he has produced 19 compositions, 11 of which were premiered at ISU, performed at a variety of events and released his original songs on iTunes and Spotify.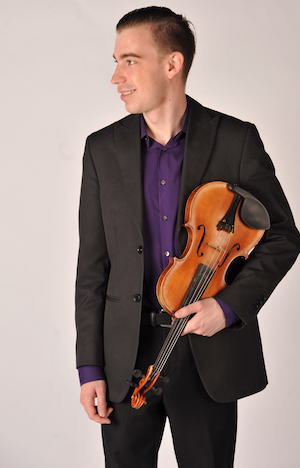 "My favorite thing about ISU was and is the music faculty," he said. "I have worked with 92 percent of the music department and have yet to have a negative experience. They have allowed me to embrace what I have and who I truly am. They helped me become the genuine version of Jedd."
A violinist by trade, Greenhalgh uses a synthetic sound machine to create original compositions played in the background as he plays violin. He also plays the cello, piano, bass drum and is a DJ.
Greenhalgh's impressive resume as an ISU student started during his freshmen year when he composed "Pequod's Voyage" for the Chamber Orchestra, and won the ISU's Got Talent competition.
During his sophomore year, Greenhalgh composed a full-length symphony titled "The Box" with fellow music student Kylle Strunk that featured a violin and marimba duet. He also won the Danny Marona Performing Arts Scholarship by playing original songs, which featured violin and popular pop medleys. He secured $6,500 for himself and $500 to give back to the Idaho State-Civic Symphony (ISCS).
"Winning the scholarship was a huge affirmation for me," Greenhalgh said. "It was also great to represent my school and kick back some money to them."
Greenhalgh's next two years at ISU were full of accomplishments and performances. During his junior year, he applied to work on ISU's Union Program Council (UPC) and helped organize events on campus, including ISU's Got Talent where he won as a freshman. He also played in the Bengal Marching Band Drumline, premiered a piece titled, "The Bad Kids" for the ISU percussion ensemble and was an opening act for the Summer Concert on the Quad series.
"I performed a lot of original work for the Summer Concert on the Quad, and it was a huge step for me," Greenhalgh said. "It was the first time I got on stage and gave a full set as a solo artist."
During his senior year, Greenhalgh premiered original pieces for the ISCS, ISU Chamber Orchestra and the theatre production "Much Ado About Nothing." He also performed at annual events including, New Student Orientation, Celebrate Idaho State, the College of Arts and Letters New Year's Eve Gala, the Idaho Dance Education Organization, the Eastern Idaho State Fair and ISU's Bengchella with fellow music student Chase Haage as the group "Undercover Popstar". He also released his song "The Black Dance" on Vevo and his single "The Awakening."
Greenhalgh's experience with ISU's Got Talent also came full circle as he ran this year's event. He was also the emcee, host and performed an introduction piece.
"Initially attending ISU wasn't in the plan," Greenhalgh said. "I have not had a negative experience. Professors in every department take the time to get to know you and really care. ISU has been home for me, and it's what I really needed."
After graduation, Greenhalgh will release his album "Artist for Hire" on iTunes and Spotify, perform as the Fiddler in the College of Arts and Letter's Summer Theatre production of "Fiddler on the Roof,", premiere a Steampunk themed solo electric violin and clarinet composition co-written by Chris Rhoades with the ISU Concert Band and be a main performer for ISU's Summer Concert on the Quad series on July 10. He will then begin graduate school at Arizona State University on a full-ride scholarship to study music composition and digital media and performance.
"My full-ride scholarship would not be possible without the Union Program Council and the music department," he said. "I have learned that I can have a career as a musician, to work hard enough and to make a difference.
After being at ISU for four years, Greenhalgh has advice for future and current ISU students: "The ASU Herberger Institute for Design and the Arts is one of the best art schools in the country, and I can go there because of ISU. There is so much opportunity at ISU, don't be afraid to put yourself out there. And if you don't think you can do something, do it anyway."
---
Categories: