ISU Women of Color Association to host Valentine's Day Scholarship Fundraiser Dinner
February 7, 2017

POCATELLO – The Idaho State University Women of Color Association will host a Valentine's Day Scholarship Fundraiser Dinner on Feb. 12 from 5 to 7 p.m. in the Pond Student Union Ballroom. Doors will open at 4:30 p.m.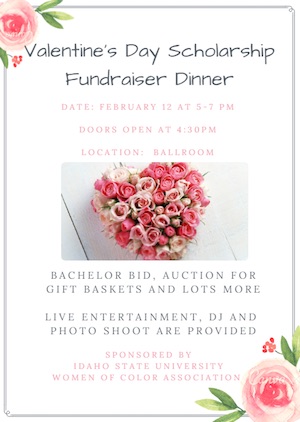 The money earned from this event will go toward a scholarship fund for an incoming woman of color.
Gift baskets will be auctioned off to help raise money for the scholarship fund.
A bachelor bid will also be held, where some of ISU's gentlemen will be auctioned off on dates.
This event will also feature live performances, a photo shoot area and a live DJ.
Tickets are $7 for ISU students, $9 for faculty and staff, and $11 for the public. Tickets will also be available at the door for no additional charge.
For more information on this event, contact Stella Okech at okeccela@isu.edu.
---
Categories: