ISU Vice President Pat Terrell to retire in June
May 16, 2017

POCATELLO – Idaho State University Vice President for Student Affairs Patricia S. Terrell has announced her retirement effective next month.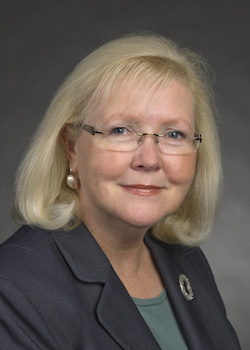 Terrell came to ISU in 2011. A native of Kentucky, Dr. Terrell earned an Ed.D. at the University of Kentucky, where she also served as Vice President for Student Affairs.
"I have had a wonderful career at five universities and ISU has been an amazing capstone," Terrell said. "President Vailas' understanding of, appreciation for and unwavering support of our students has made my job enviable among my colleagues."
In her current role, Terrell is responsible for most out-of-class and co-curricular activities including Housing, Veteran Student Services, Counseling and Testing, Career Center, Student Unions, Early Learning Center, Disability Services, Campus Recreation and Student Clubs and Organizations.
During Terrell's service at ISU, the Career Path Internship Program, which provides students with paid work experience in their fields, grew, today benefitting more than 900 students. Veteran Student Services, Counseling and Testing, and Disability Services departments were expanded in outreach and scope. Terrell was also instrumental in creating a special Student Support fund to help students with needs that might be barriers to continuing their education. During her tenure, the Student Global Leadership Program was launched and Benny's Pantry opened on the Pocatello and Idaho Falls campuses.
"Dr. Terrell has been a great asset to our University," said President Arthur Vailas. "Her focus has always been the well-being of our students, and she has touched thousands through the services she and her staff provide. She will be missed."
Terrell said she appreciated her time at ISU.
"I want to thank President Vailas and Executive Vice President and Provost Laura Woodworth-Ney for their confidence in me and the opportunity to serve this institution. It has truly been an honor and a privilege. I leave with great memories of my colleagues and our students," she said.
Upon Terrell's retirement, ISU Associate Vice President Lowell Richards will serve as interim vice president while a national search is conducted for the position.
---
Categories: