ISU to host discussion, film on Acoustic Ecology and Idaho Soundscapes on Feb. 23
February 8, 2017
By Kirsten Cooper, MarCom CPI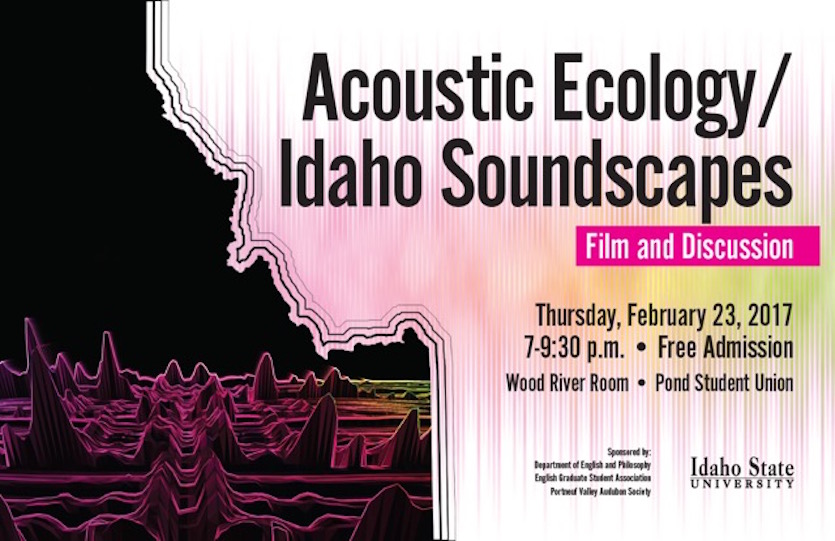 POCATELLO – Several panelists from Idaho State University will host a discussion on Acoustic Ecology and Idaho Soundscapes on Feb. 23 from 7 p.m. to 9:30 p.m. in the Wood River Room of the Pond Student Union. Admission is free.
Acoustic ecology is a new field that seeks to understand our soundscape, the unique combination of natural and human-made sound in a given area. Come learn about various soundscapes in Idaho and our national parks and what they can tell us about the health of our ecosystem.
The panel will begin with the film "Nature's Orchestra," a portrait of sound ecology pioneer Bernie Krause, and some short clips with examples of spectrograms, or graphic depictions of a soundscape.
When the hour-long streaming of these materials is finished, the following panelists will discuss our acoustic environment in Idaho and beyond: Dave Delehanty, professor of biological sciences at ISU; Maria Pacioretty, M.S. Biological Sciences, ISU; Corrie Smith, Clinical Assistant Professor, Audiology, ISU; and Yolonda Youngs, Assistant Professor, Global Studies and Languages, ISU.
The discussion will be moderated by Curt Whitaker, professor of English at ISU. The event is co-sponsored by ISU's Department of English and Philosophy, the English Graduate Student Association, and Portneuf Valley Audubon Society.
For more information on this event, contact Curt Whitaker at whitaker@isu.edu.
---
Categories: