ISU theater students shine at regional Kennedy Center American College Theater Festival
March 1, 2017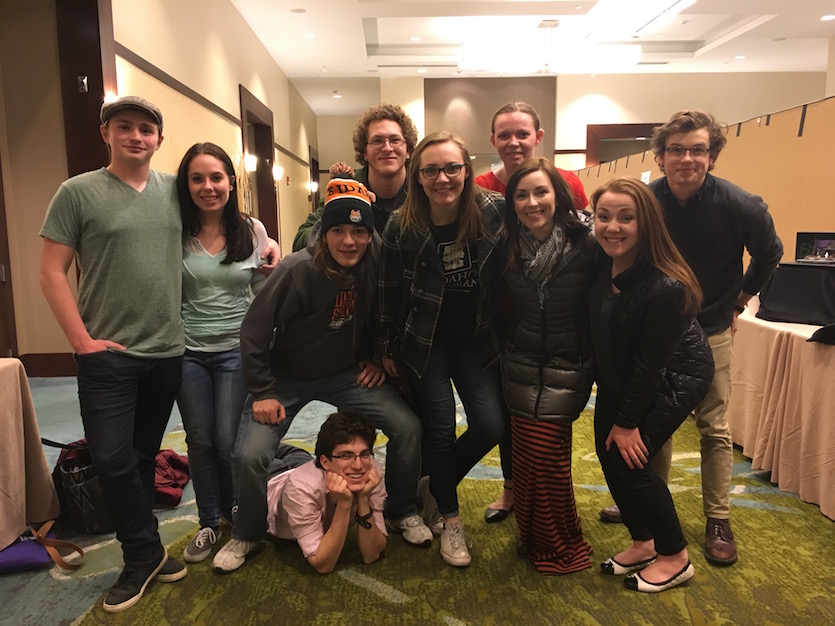 POCATELLO – Ten theater students from Idaho State University traveled to Denver last week to participate in the Region VII Kennedy Center American College Theater Festival (KCACTF).
Freshman theater major Brayton Hunt won the overall prize in the Musical Theatre Scholarship Auditions with her performance of "She Used to Be Mine" from the musical "Waitress." The majority of ISU students in attendance participated in competitions, and most were passed on to either finals or semifinals.
Students Tristan Berg and Elijah Spreier also advanced to the finals of the Musical Theatre Scholarship Auditions, making the cut from 123 students to 32. Berg and Alisha Hunter advanced to the semifinals of the Irene Ryan Acting Scholarship Auditions, which provides recognition, honor and financial assistance to outstanding student performers wishing to further pursue their education. Berg was nominated for his work in "Narnia" and "Next to Normal," Rachael Fornarotto was nominated for her work in "The Turn of the Screw," Hunt was nominated for her work in "Narnia." All three nominees competed with scene partners from ISU's theatre program.
Jacob Gardner, a costume design major and nominee for his work on "The Turn of the Screw," entered costumes designs, received positive feedback and was also offered professional summer employment based on the work he presented. This is the first time that theater professor Vanessa Ballam and the 10 students have been able to attend the festival. Every student who competed in the areas of acting and musical theater was either a freshman and sophomore.
KCACTF is a national theater program involving students from colleges and universities around the country. During the weeklong regional event, students participate in workshops, master classes, audition for summer work and compete. ISU is a part of KCACTF Region VII, covering Alaska, Colorado, Idaho, Montana, Northern California, Northern Nevada, Oregon, Washington and Wyoming.
Hunt will travel to compete at the national event held at the Kennedy Center in Washington D.C. in April with the musical theatre winners from the other seven regions. She will spend a week working with Broadway directors, vocal and dance coaches, and attending workshops and musical theater masterclasses. She will compete on April 21 for the National Musical Theatre Fellowship.

"In Pocatello it's easy to feel isolated as an artist," Ballam said. "It's rare for our students to have exposure to other university work. We often fundraise to see professional work in Salt Lake City, but as far as seeing what other universities are doing, it's not something that we're always able to do. By seeing what other schools are producing, as well as individual performances, we are able to compare and contrast and better understand how ISU fits into our region."
Ballam said the department is hoping to prioritize attending KCACTF in future years, and begin fundraising now to attend next year's festival to keep the momentum going.
---
Categories: