ISU National Girls and Women in Sports Day Events Scheduled for Jan. 26 and 28
January 18, 2017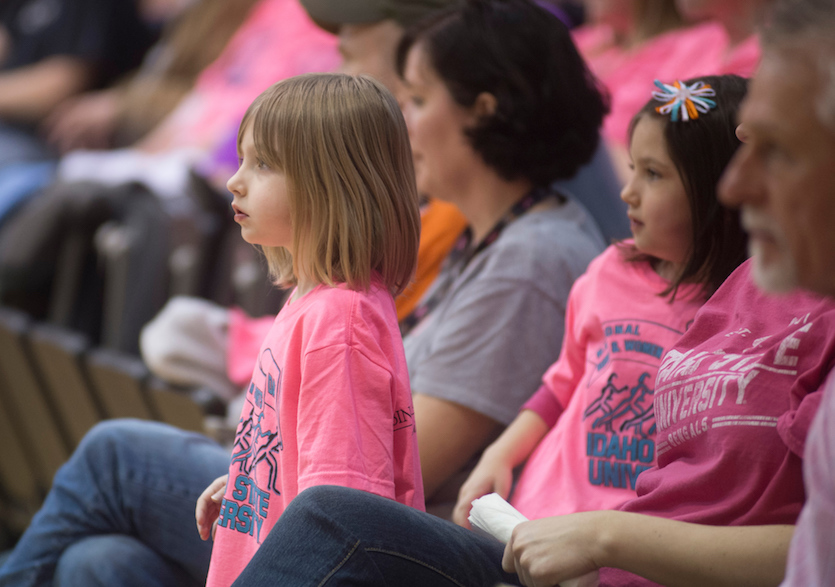 POCATELLO - Idaho State University's annual National Girls and Women in Sports Day is scheduled for 2 p.m. Saturday, Jan. 28, at Reed Gymnasium.
ISU's 18th annual celebration of this event will include free admission to the ISU Women's Basketball game versus Weber State University for the first 300 kindergarten- fifth grade girls and boys. Tickets for accompanying adults are $3. Free t-shirts and flags will be given to the first 200 girls and women, compliments of Portneuf Medical Center.
At halftime, the 2017 Trailblazer Award will be presented. This award, given annually, recognizes a woman with affiliation to ISU who has provided significant leadership and mentorship to women in sport. The award recipient this year is Jodi Wotowey, who currently serves as the head athletic trainer at ISU. Wotowey has been involved in athletics throughout her life through her own participation, and through advocating for and assisting others with their involvement. Much of her career was spent at schools in Texas, but in 2004 Wotowey joined the Bengal staff where she has worked with every athletic team. Wotowey was also a key player in the creation of Spinderella, a women-only cycling event held annually in Pocatello.
Following the game, one-hour clinics will be held for all girls and women. Activities include yoga, dance, fencing, rock climbing and slack-lining.
The event's keynote address will be given by Hillary Merkley on Jan. 26 at 6 p.m. in the College of Education Auditorium with a reception at 7 p.m. in the lobby. Merkley currently serves as the head coach for the track and field teams at ISU.
As a former Bengal athlete, Merkley received many honors including two Big Sky championships, the most valuable track and field athlete, Big Sky All-Academic, and the Big Sky Outdoor Outstanding Female Field Athlete. She currently holds the indoor shot put record. Merkely earned her bachelor's degree in secondary education, and her master's degree in physical education, athletic administration. Her coaching experience began with the Bengals in 2002-2003 and continued at Paradise Valley Community College, Kansas State University, and Capital High School. Merkley's presentation is titled: "A few things, as a female, I should have learned in kindergarten."
This national day has been proclaimed by Congress every year since 1987, and is honored annually the first week of February. National Girls and Women in Sports Day recognizes the progress of girls and women in sports, and the benefits that sport and fitness activities can bring to the lives of all girls and women. "Expanding Opportunity" is the national theme for this year's day and serves to acknowledge the importance of sport participation for women and girls.
For more information call Elaine Foster, Department of Sport Science and Physical Education, at (208) 282-4310 or email davielai@isu.edu.
---
Categories: