ISU-Meridian confers record number of degrees at May 8 commencement
May 9, 2017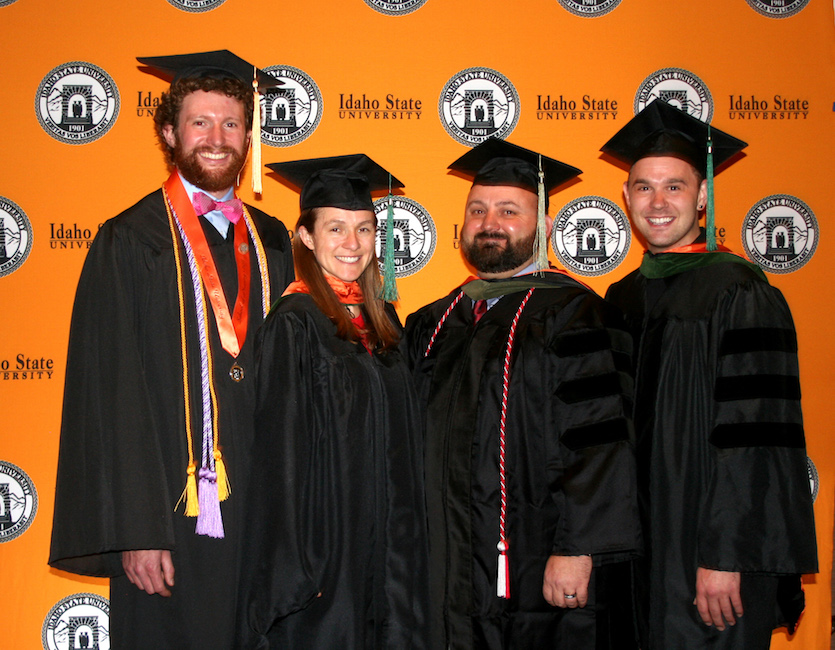 BOISE — The Idaho State University-Meridian Health Science Center conferred a record number of degrees at its commencement ceremony May 8 and honored audiology student Jacob Diller, who grew up in Pocatello, with the 2017 Student Excellence Award.
ISU President Arthur Vailas congratulated students and their families, who packed the Boise Centre's Grand Ballroom, and spoke of the role of higher education in improving the lives of future generations.
"This is an important time in your life. You have been given the knowledge and tools to make a difference in the world," he told graduates.
Since opening in 2009, the Meridian campus has awarded 2,000 degrees, including the 292 degrees and certificates conferred Monday night—Meridian's largest class ever.
Diller, who was awarded a doctorate in audiology, was one of five finalists for the ISU-Meridian Student Excellence Award, which honors academic excellence, research and community involvement. A graduate assistant and student leader, he spent this past spring break providing audiology services to Andes villagers in Peru. He has also volunteered at ISU-Meridian's community health screenings, the 2014 Special Olympics and mentored speech-language students.
The other four nominees were Daniel Hendrickson, Meridian; Quinn Johnson, Nampa; Megan Shannahan, Eagle; and Megan Worth, Boise. They represent the disciplines of pharmacy, nursing, speech-language pathology and physician assistant studies, respectively.
Of the 292 degrees and certificates conferred, 96 were Associate of Arts degrees in general studies awarded to Renaissance High School students through a partnership with ISU and the West Ada School District.
Here is a breakdown of degrees.
Graduate and professional degrees: Seven Doctor of Philosophy (Pharmaceutical Sciences, Counselor Education and Counseling, and Nursing); four Doctor of Audiology; 11 Doctor of Nursing Practice; 31 Doctor of Pharmacy; two Education Specialist (Counseling); nine Master of Counseling; two Master of Business Administration; one Master of Education (School Psychological Examiner); one Master of Organizational Learning and Performance; three Master of Physical Education/Athletic Administration; 27 Master of Physician Assistant Studies; three Master of Public Health; 22 Master of Science (Speech-Language Pathology and Medical Laboratory Science)
Undergraduate degrees and certificates: Sixty-eight Bachelor of Science (Health Science, Medical Laboratory Science, Nursing, Communication Sciences and Disorders, Sign Language Interpreting); six Associate of Science (Paramedic Science, Emergency Management, Sign Language Studies, Emergency Management), four Community Paramedic Certificate; 96 Associate of Arts (General Studies).
The ISU-Meridian Health Science Center offers more than 25 graduate, undergraduate and online programs. Most are in the health sciences. Visit www.isu.edu/meridian.
---
Categories: