ISU-Meridian biomedical lab installs new high-tech research tool
February 6, 2017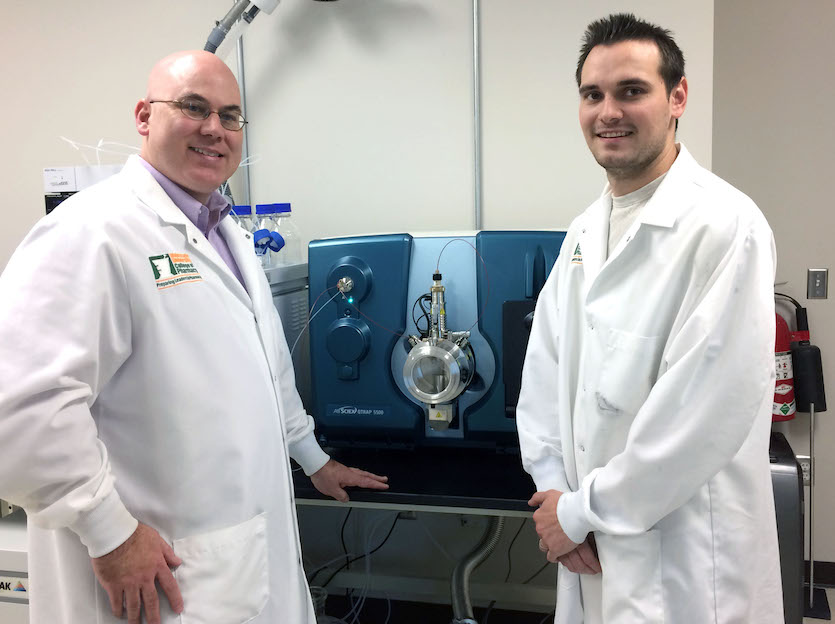 MERIDIAN - The College of Pharmacy at the Idaho State University-Meridian Health Science Center is home to a new high-tech tool designed to help scientists advance clinical and translational research at ISU.
The triple quadrupole liquid chromatography mass spectrometer—LC-MS/MS for short—is the first of its kind at Idaho State University and one of only a handful in the state, said Dr. Kirk Hevener, assistant professor of biomedical and pharmaceutical sciences at ISU-Meridian.
Housed in the biomedical laboratory in the L.S. Skaggs Pharmacy Complex, the instrument will enable researchers to measure amounts and concentrations of chemical and biological compounds with a high degree of sensitivity.
"This instrument will take us to a new level of research and improve the research infrastructure at ISU," Hevener said. The College of Pharmacy and ISU Office for Research purchased the triple quadrupole LC-MS/MS for $440,000 from SCIEX, an international technology company specializing in mass spectrometry.
Mass spectrometry is an analytical technique that measures the masses and relative concentrations of ionized atoms and molecules. The instrument at the Meridian facility is unique in that it possesses what is known as 'ion trapping' capabilities, which significantly expands the versatility of the instrument to both quantitative (how much is present) and qualitative (what is present) applications.
Hevener, who conducts research in structural biology and protein biochemistry, says applications for the LC-MS/MS include drug discovery, therapeutic drug monitoring, protein studies and measuring contaminant levels in food and the environment.
He and his team are currently using the instrument, which was installed Nov. 7, for peptide fingerprinting—isolating and analyzing proteins to determine their makeup. Because ISU owns the mass spectrometer, Hevener can analyze data in-house without paying costly fees to an outside source.
Hevener and his colleagues see the LC-MS/MS—with its myriad of applications—as a tool to recruit new research faculty and a means to generate university revenue. Outside agencies, hospitals, and other universities may have need use it in the future.
"I really hope to see this thing run 24/7. I want to see people lining up to use this instrument," he said.
To learn more about the triple quadrupole LC-MS/MS system, go to www.youtube.com/watch?v=VUmcxNLHu4Y or contact Hevener at (208) 373-1829, khevener@pharmacy.isu.edu.
---
Categories: