ISU library seeking donations for digital collection 'American Indian Histories and Cultures'
February 6, 2017

POCATELLO – Idaho State University's Eli M. Oboler Library is seeking donations to purchase the digital collection "American Indian Histories and Cultures" for ISU.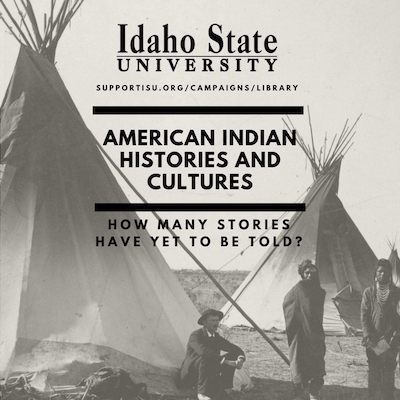 This collection of Native American documents will strengthen the library's resources in this area of study and support the research of ISU students and faculty.
Native American Studies is an important subject in the ISU curriculum, and this exhibit will become a showcase for the university, facilitating the in-depth research and teaching efforts of the history and anthropology departments, as well as the Idaho Museum of Natural History.
"American Indian Histories and Cultures" provides a rich variety of material such as manuscripts, artwork, American Indian newspapers, rare printed books, photographs, and maps from the Edward E. Ayer Collection at the Newberry Library (Chicago).
Themes in the digital collection are incredibly diverse including early encounters between American Indians and Europeans; American Indians and the colonial powers, and later, the U.S. government; the indigenous peoples of Mexico; conflict, wars and military contact; the fur trade and Indian traders, education, and American Indian boarding schools, as well as the civil rights movement and political activism.
This is an opportunity to bring a significant collection to ISU and join such institutions as University of California Berkeley, South Dakota State University, Montana State University and the University of Utah in making "American Indian Histories and Cultures" available to students and faculty as a vital resource for learning and scholarship.
The online collection will cost $24,750 to purchase. The library's goal is to raise $20,000 to help with the cost, and will match outside donations dollar-for-dollar.
For additional information on this collection and how to contribute, go to https://supportisu.org/campaigns/library.
---
Categories: