ISU College of Business students, faculty recognized in letter to senator for helping Pearlhill Technologies in Idaho Falls secure SBIR grants
July 24, 2017

POCATELLO – In June, Bamidele Omotowa, president of Pearlhill Technologies in Idaho Falls, sent a letter to Idaho Sen. James E Risch, in which he expressed thanks to the Idaho Falls Small Business Development Center (SBDC) and Idaho State University for the assistance they gave which resulted in more than $1 million of grant money being awarded to Pearlhill Technologies.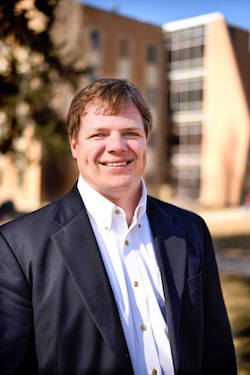 At ISU, Omotown specifically thanked College of Business Management Department Chair, Neil Tocher, and students in Tocher's Master of Business Administration's "6628 Applied Business Solutions" course.
Pearlhill Technologies is a small business that develops technologies for clean energy generation. In particular, Pearlhill's higher purpose, according to Omotowa, is "to create a cleaner world by recycling fluorine molecules from hazardous waste from nuclear power generation into high quality products that can safely elevate the quality of life and living." One of the main technologies his company develops is a powder coating resin.
Tocher teaches the "6628 Applied Business Solutions" course, also known as the MBA Capstone, in which ISU MBA student teams consult with firms to assist them in developing solutions to business problems. David Noack, director of the Idaho Falls SBDC referred Pearlhill Technologies to Tocher. The student team of Brian Rucks, Gopal Patil, Renaldo Harper and Ryan Fredrickson assisted Pearlhill Technologies by performing a market and segment analysis on the powder coating industry. The results of the analysis found that Pearlhill technologies was in a prime place for forward momentum in the industry and that the particular resin that they used was "a game changer."
Based on the information provided to Pearlhill by the MBA team, Pearlhill Technologies created a partnership with Dome Technology in Idaho Falls, and Matrix Powder Technology in Columbus, Ohio. The final report from the students was also used in Pearlhill's proposal for a pending Phase I Small Business Innovation Research (SBIR) grant from the National Science Foundation.
The report's findings and Pearlhill's growth helped convince the SBIR office to authorize three Phase I SBIR grants and two Phase II grants worth well over $1 million to Pearlhill. To show his gratitude, Omotowa wrote a letter to Sen. Risch in which he thanked the SBDC and ISU's MBA program for the help he received in making this opportunity happen for the company. Katie Sewell, the state director of the SBDC, personally delivered the letter to Senator Risch in Washington, D.C. in June.
David Noack of the Idaho Falls SBDC said that Tocher and the MBA 6628 class have been "extremely supportive of the SBDC efforts in helping businesses in eastern Idaho and has made an impact throughout Eastern Idaho."
For more information on the Master of Business Administration program at the Idaho State University College of Business or becoming involved in the MBA 6628 capstone course, visit isu.edu/cob or call 208-282-2504.
Photo is of Neil Tocher

---
Categories: