ISU accelerated nursing students apply classroom lesson to real world
February 9, 2017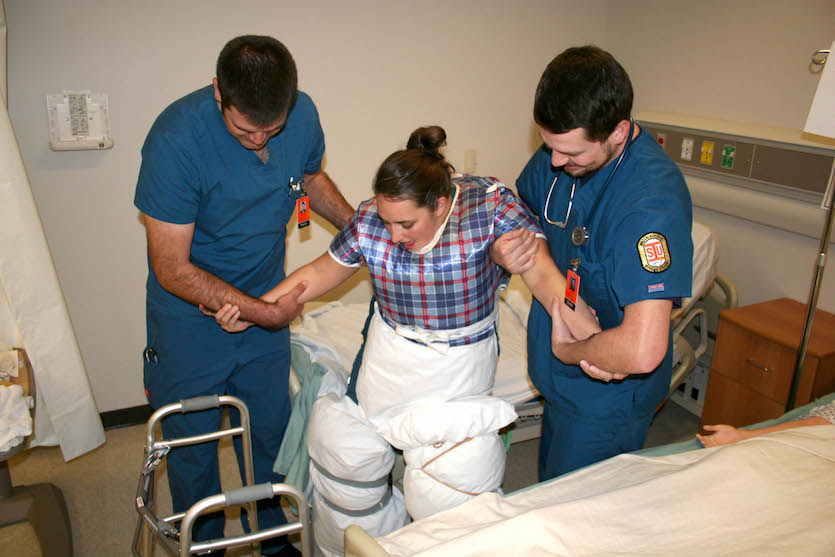 MERIDIAN—Nursing students at the Idaho State University-Meridian Health Science Center spent a recent Thursday morning learning how to safely transport patients within a hospital setting.
"Patient mobility is a part of every patient-care plan," said Dr. Jennifer Hackwith, a nurse practitioner and coordinator of the accelerated nursing program.
In one scenario, students were tasked with moving a 430-pound patient who'd been confined to a hospital bed for six days while recovering from pneumonia. Critical in any recuperation process is getting a patient up and moving—to help them regain the strength and mobility to perform daily tasks, like bathing, dressing and returning to the workplace. Transporting larger patients can require more than one health care worker.
Student Kaitlyn Roberts, dressed in padding to represent the obese patient, lay in a hospital bed in ISU-Meridian nursing skills lab. Working together, classmates Aaron Drees and Daniel Johnson carefully helped her to a standing position, then to a walker where she was able to take a few steps on her own before collapsing due to muscle weakness caused by immobility.
It was the job of Drees and Johnson, with input from classmates and professors, to quickly take control of the situation by developing a plan to help "patient Roberts" regain her stability while ensuring her safety and that of the "nursing staff." They were careful to observe safety protocols, regulations and industry standards to minimize injury to themselves and the patient.
The classroom exercise was a realistic portrayal of what students will likely encounter in a real hospital or clinic setting as they begin their clinic rotations this semester, said Hackwith.
It's also an example of the program's exceptional curriculum and interprofessional focus. Teri Meadows, of Boise, and Angela Grant, of Eagle—both working on doctorate degrees in nursing practice through ISU—are graduate teaching assistants in the accelerated program.
"I've been able to learn and grow with the students as well as in my own DNP (Doctorate of Nursing Practice) studies," said Grant, who will complete her doctorate in 2019.
Meadows, who is slated to graduate in 2018, is grateful for the tuition assistance provided in her graduate teaching position. "It's an opportunity to reinforce my own nursing education," she said.
The only program of its kind in Idaho, the accelerated nursing program enables students, who have a bachelor's degree from a regionally accredited college or university, to earn a Bachelor of Science degree in nursing degree in 12 months. Applicants must also complete program prerequisites.
To find out more about the program, visit isu.edu/nursing/programs/accelerated-bachelor-of-science-in-nursing or call (208) 373-1784 in Meridian.
---
Categories: