Idaho State University videographer Martin Baker again honored with Collegiate Advertising Gold Award
April 26, 2017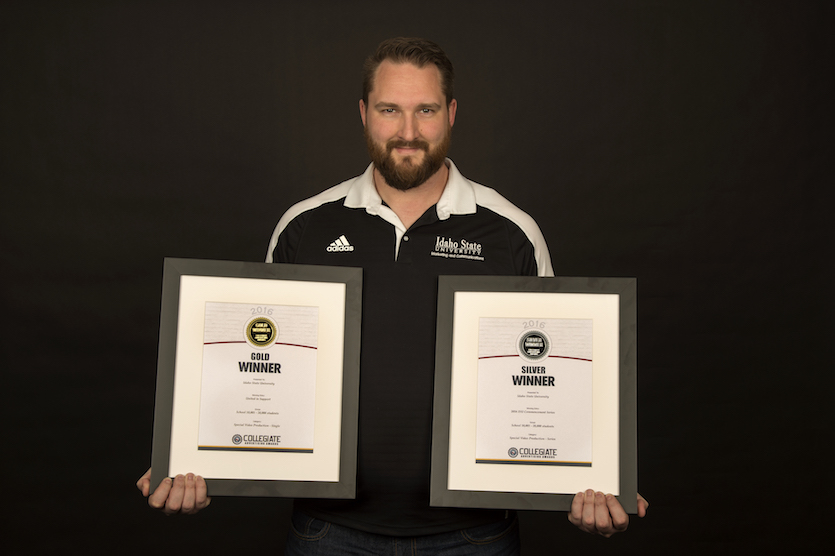 POCATELLO – Idaho State University videographer Martin Baker was honored with Gold and Silver Awards from the Collegiate Advertising Awards for ISU promotional videos he produced in 2016.
His Gold Award was for the video "United in Support" in the Special Video Production Single category, for schools with 10,000-20,000 students.
"'United in Support' was a video that was meant to be a reaffirmation that ISU as a community is united in support of all peoples from different walks of life," Baker said.
The Silver Award was for his 2016 "Commencement Series" in Special Video Production Series category. In this video Baker interviewed several graduates and asked them to reflect on their time at ISU and what they look forward to in their futures.
In 2013, Baker also won a Collegiate Advertising Gold Award for his Mascot Entrance video that featured ISU's Benny the Bengal battling mascots from other schools.
"It is always humbling to get recognized for what you do, but this is really exciting for me," Baker said. "For me, I'm just doing my job. "I love ISU and having the opportunity to share these stories with our audiences,"
According to its website, the Collegiate Advertising Awards program is an elite national program created to honor today's most talented marketing professionals for outstanding excellence in all forms of advertising, marketing and promotion specific to higher education products and services.
"Martin's recent national recognition reaffirms what we already knew about his amazing talents," said Stuart Summers, associate vice president for ISU Office of Marketing and Communications. "He consistently sets the bar high for online video content, and his projects are a positive boost to ongoing promotional efforts. ISU is very proud of Martin."
The playlist for Baker's graduation series can be found online at www.youtube.com/playlist?list=PLQRIBQKgkc60gMPtSPgIVbFhIFygW21ht.
The abbreviated link for Baker's United in Support video is https://youtu.be/6-ocygoTa1c.
---
Categories: