Idaho State University students to perform original work at ISU Dance in Concert
February 10, 2017
Melissa Lee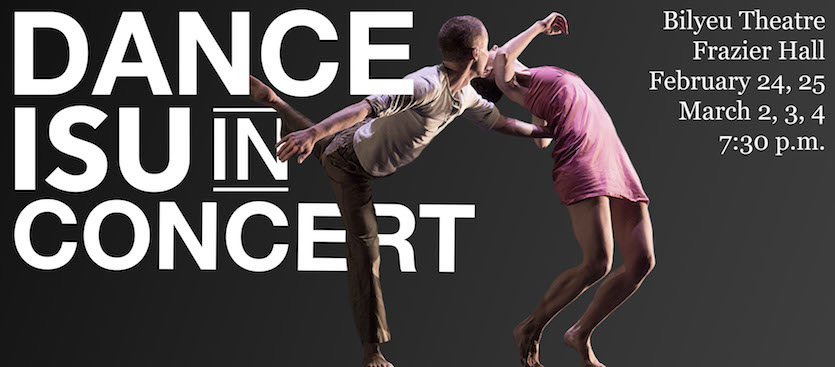 POCATELLO – Students in Idaho State University's School of Performing Arts will perform original choreography at the ISU Dance in Concert production on Feb. 24, 25 and March 2, 3 and 4 in Frazier Hall's Chick and Diane Bilyeu Theatre.
The concert will feature diverse types of dance including, ballet, ballroom, modern, hip-hop and jazz. Each piece performed was choreographed by ISU dance faculty members Aaron Wood, Lori Head, Sergiu Brindusa, Molly Jorgenson, Lauralee Zimmerly and Sheena Phelps. Detailed descriptions of each dance can be found below.
"This annual production provides opportunities for our students to perform works in front of live audiences, and audiences the opportunity to see concert dance in person," Wood said. "It also showcases original choreographic works by our professors who are regionally renowned dance artists."
This will be Wood's first ISU Dance in Concert production since joining the College of Arts and Letters in August. Wood will be creating an original sound score, along with original projection multimedia for his dance, "The Genius of the Crowd." Dance costumes will be designed by ISU costume design students, and ISU alumni Zac Jelke will design the lighting.
Tickets are available at the ISU Box Office at 282-3595 or isu.edu/tickets. Tickets are $13 for adults, $12 for faculty/staff/senior, $8 for children and $5 for ISU students with Bengal ID.
Detailed descriptions written by the choreographer of each performance:
• "Spice up your life…"
Choreographer: Lori Head
The Samba is a lively, rhythmical dance of jubilation. Life is worth celebrating every day from Brazil carnival celebrations to the ISU campus! The Samba can be performed with a partner as well as solo work, and is liberating and invigorating.
• "Les Sylphides"
Choreographer: Michel Fokine, restaged by Beth Moore/Sergiu Brindusa
Music: Frédéric Chopin
'Les Sylphides,' also called 'Chopiniana,' is a short ballet choreographed by Michel Fokine. Considered part of the romantic era of dance, this white, plotless ballet represents dance at its purity with a very romantic touch and old world feeling. Like most white ballets, it is a true classic."
• "The Genius of the Crowd"
Choreographer: Aaron Wood
Music: Original sound score created by Wood with music/poetry from Mike Wall, Hecq, and Charles Bukowski.
'The Genius of the Crowd,' a contemporary dance piece that is an evocative illustration of group allegiance and self-compromise. The dance features ten ISU dancers, original video projections created by Wood and a collection of songs from musicians Mike Wall and Hecq intertwined with Charles Bukowski's poem 'The Genius of the Crowd.' This work has been selected to perform at the 2017 ACDA Northwest Regional Conference held in Eugene at the end of March.
• "Legacy"
Choreographer: Molly Jorgenson
Having had two women very close to me pass away in the past two years (My mother-in-law and my grandmother), I am missing them. Although I feel them spiritually near to me, I cannot physically touch or connect with them. All I have left is the beautiful legacy they've left behind, the lessons they taught me and their amazing examples. In this work I am questioning, 'what is the legacy I want to leave behind for my loved ones when I pass on to the next life?' 'What are the choices I am making with my time now to create that legacy?'
• "What I Want You to Know"
Choreographer: Sheena Phelps
"This piece is a reflection of the hidden struggle caused by depression. Hoping to share one's personal experience and dive deeper into this common, but still stigmatized, disease, students have processed movement through therapeutic experiences. This piece will shed light on the secret struggle and reflect the beauty that comes from struggle.
• "This is who I was…"
Choreographer: Lauralee Zimmerly
Music: Greie Gut Frakton, Clark, Art of Noise
We are constantly in the process of navigating and evolving our personal identity as we make connections across and within our identity borders. This work uses the physical language of dance to echo some psychological and physical episodes surrounding the issues of identity; how our boundaries emerge, both -inter, -intra, and metaphysically, as we realize and form our containers of existence. How do we become as we trail the human pursuit of identity?
---
Categories: