Idaho State University July 14 Bengal Bridge car wash to benefit new endowment
July 6, 2017

POCATELLO – This year's Idaho State University Bengal Bridge students will hold the first Bengal Bridge Car Wash Fundraiser on Friday, July 14, from 11 a.m. to 3 p.m. in the AutoZone parking lot at 780 Yellowstone Avenue next to the Pocatello Fred Meyer.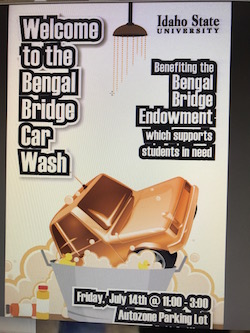 All proceeds will go toward the Bengal Bridge Endowment Fund. This fund was created to help Bengal Bridge students with emergency needs such as groceries or emergency housing.
The Bengal Bridge program aims to support its students, especially when they face extraordinary hardships.
Misty Prigent, an academic coach for Bengal Bridge, says she hopes to hold this car wash every summer to keep growing the fund to help the students succeed.
Bengal Bridge is a seven-week college semester held in the summer for recently graduated high school seniors with a major benefit – tuition is only $65 per credit hour.
Students earn up to 10 college credits over the course of the program, including both general education courses and specific classes that count toward their degrees.
For more information about the Bengal Bridge program or the car wash fundraiser, contact Misty Prigent at clovmist@isu.edu or (208) 282-2615.
---
Categories: