Idaho State University Holt Arena to receive lighting upgrades
May 24, 2017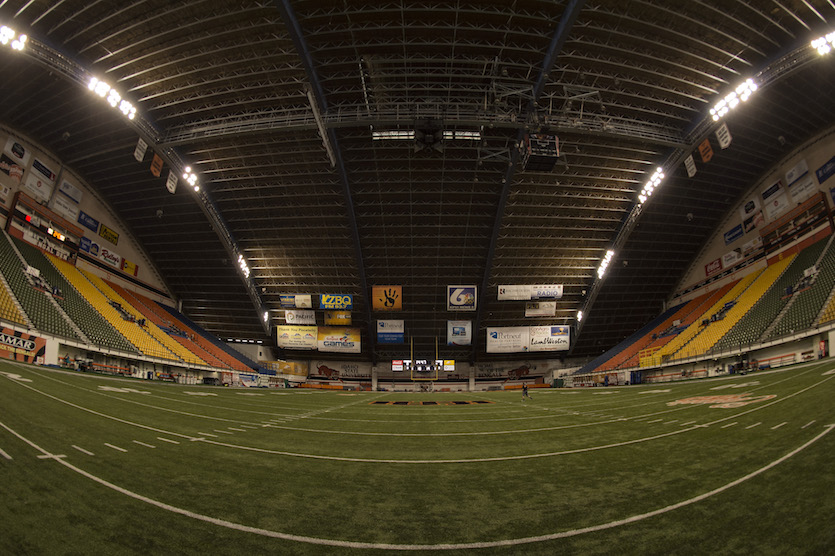 POCATELLO – Idaho State University's Holt Arena will undergo a $536,000 lighting upgrade this summer, replacing two older lighting systems with 85 LED lighting fixtures.
"The new lights will reduce electricity and maintenance costs and improve the quality of lighting for athletics and spectators," said George Casper, ISU director of events. "It's a win-win situation."
The project is slated to run from June 26 to Aug. 21.
The new Euphasus LED Stadium Pro Sports Lighter fixtures will require 62 percent less electricity than the old metal halide fixtures. The estimate return on investment is roughly five years, possibly sooner.
These new fixtures will increase the light quality to achieve lumen output levels required to meet NCAA requirements for televising football. The new lumen level will be an average of 80-foot candles and lighting levels will be more even throughout the arena. Previously, Holt Arena's lighting levels averaged about 60 lumens.
"There will be more light and more even lighting," Casper said. "Lighting adjustment will be instantaneous and we can better adjust lighting for different areas of the facility. The lights are dimmable and we can have multiple light settings."
Once completed, ISU will be eligible for an estimated $183,000 Idaho Power Incentive Rebate.
There are many other pluses with the new system, including:
The estimated maintenance cycle of the new fixtures is more than 30 years. This will significantly reduce annual maintenance replacement costs.
The new system will bring Holt Arena lighting up to current electrical codes. The project includes replacing old electrical panels to meet code requirements.
The new lights will produce less heat than the previous metal halide fixtures. The heat from the old fixtures caused electrical maintenance issues such as burned up wiring and faulty breakers.
Funding for the new system is coming from parking and facilities fee money and from University Funds.