Idaho State University history Chair Jessica Winston announced as legal literature award winner
May 23, 2017

POCATELLO -- The American Association of Law Libraries (AALL) announced the names of the 2017 Joseph L. Andrews Legal Literature Award recipients and Idaho State University history chair Jessica Winston was one of the three recipients.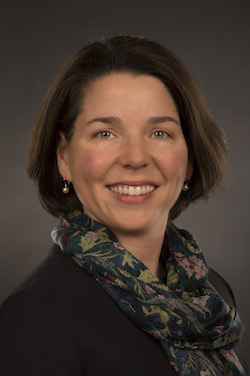 The additional winners include Shelley L. Downing; librarian of the court, retired; U.S. Supreme Court Library; Williamsburg, Virginia and Richard C. Amelung, PhD; professor emeritus of legal research; Vincent C. Immel Law Library; Saint Louis University; St. Louis, Missouri; and the LLMC staff; Kaneohe, Hawaii.
Winston's work, "Lawyers at Play: Literature, Law, and Politics at Early Modern Inns of Court, 1558-1581," offers an analysis of the approximately 75 poetry collections, classical translations and original dramas associated with the literary network of the early Elizabethan Inns and touches on why the Inns of Court became a literary center in the 1560s.
"As a scholar in the interdisciplinary field of law and literature, I am thrilled that my book about early modern Inns of Court resonates across multiple disciplines, and particularly with the members of the AALL," Winston said. "I am honored to be named an AALL Joseph L. Andrews Legal Literature Award recipient. I am delighted to be in such distinguished company, and I look forward to accepting it, along with other recipients, at this year's AALL Annual Meeting."
The Joseph L. Andrews Legal Literature Award recipients will be recognized at AALL's upcoming 110th AALL Annual Meeting & Conference, to be held in Austin, Texas, from July 15-18.
For more information about AALL's Joseph L. Andrews Legal Literature Award, visit bit.ly/AALLandrews.
---
Categories: