Idaho State University College of Business earns highest possible rating from accreditors
February 10, 2017
Kelsey West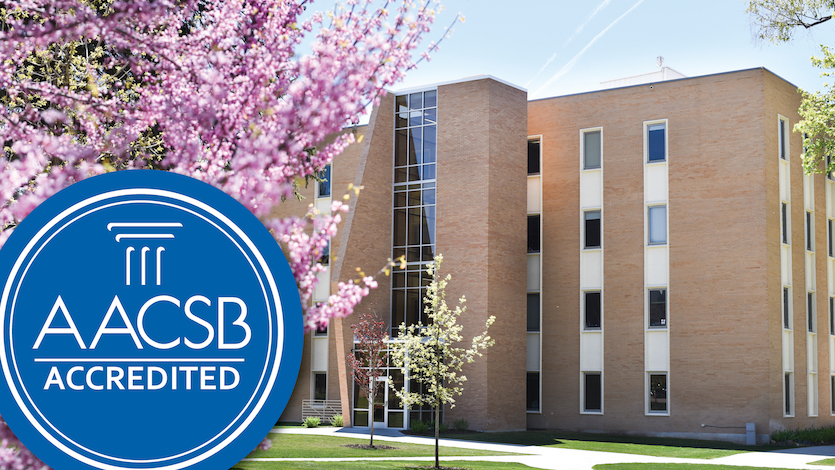 POCATELLO – In 1978, the Idaho State University College of Business became the first business school in Idaho to receive accreditation from the international Association to Advance Collegiate Schools of Business (AACSB). As of this week, its continuing standard of excellence was reaffirmed.
On Feb. 8, the business and accounting programs of the College of Business were each officially reaccredited by the AACSB after an on-site review team awarded the College its highest possible recommendation.
The AACSB represents "the longest serving global association dedicated to advancing management education worldwide," and accredits less than 5 percent of the 16,000 schools granting business degrees worldwide. The ISU College of Business' accounting program, which is separately accredited, also earned the review team's highest recommendation. Only 175 schools hold both accounting and business accreditation, ranking ISU's College of Business in the top 2 percent of business schools worldwide.
During the visit, the College was reviewed under new standards set in 2013 by the AACSB, which focused heavily on innovation, engagement and impact. The review team commended ISU for the addition of a sequence of required Professional Development courses designed to develop students' career skills and increase interaction with prospective employers before graduating. Another highlight for the review team was the introduction of the Center for Entrepreneurship and Economic Development (CEED), which promotes entrepreneurship both on campus and in the community. The team also praised the outstanding student services the College of Business provides as well as the common dormitory- the Living and Learning Center at Dyer Hall, for College of Business majors living on campus. With respect to accounting, the review team was particularly pleased with the small class sizes, the newly recruited faculty, the high CPA pass rates and the proposed Master of Taxation program, set to begin this fall.
In October, a team of deans and administrators from peer institutions visited the College of Business to audit and ensure that the College's academic programs, student support, faculty research and fiscal management adhere to the AACSB standards. These peer institutions included Bowling Green University of Ohio, Winthrop University of South Carolina, the University of Denver and St. Louis University Cook School of Business all representing schools with similar missions, regional scope and student demographics to ISU.
"During the visit, our review team was astounded by the small class sizes available to our students at such a low tuition cost, commenting that we are providing our students with a private school education at a public school cost," said Dr. Tom Ottaway, Dean of the College of Business.
As part of their reaccreditation, the College of Business will continue to provide a quality education to students focused around an innovative, impactful and engaging curriculum. The next review will take place within five years where the College will be evaluated based on the goals set during this most recent review.
---
Categories: