Idaho State University choirs to present Mid-Winter Concert March 3
February 28, 2017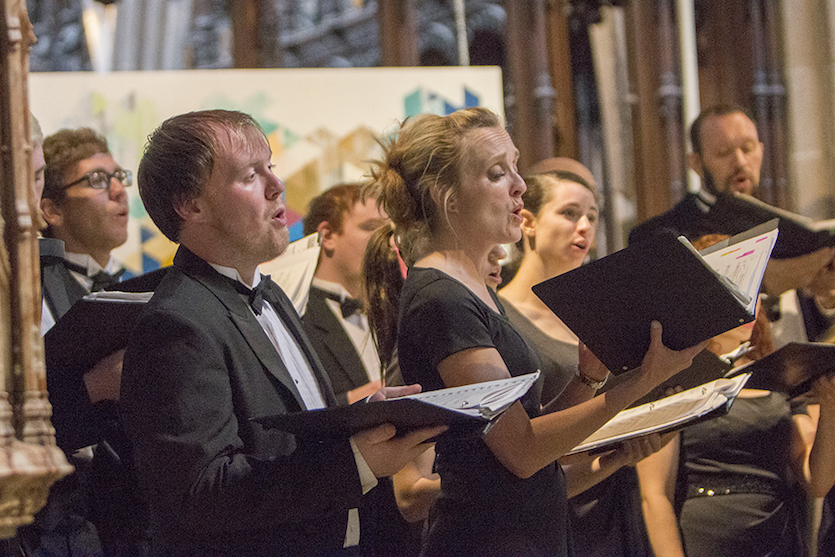 POCATELLO – The Idaho State University Choirs will present their Mid-Winter Concert on Friday, March 3, at 7:30 p.m. in Joseph C. and Cheryl H. Jensen Grand Concert Hall in the ISU L.E. and Thelma E. Stephens Performing Arts Center.
"All three of our University choirs will perform a very diverse offering of musical styles, ranging from master composers J.S. Bach and Sergei Rachmaninoff to folk music of the United States, Uruguay and Canada," Scott Anderson, ISU choral activities director.
Professor Kathleen Lane will conduct the ISU Women's Choir in a program beginning with "Ricevete," the joyous wedding chorus from Mozart's famous opera, "The Marriage of Figaro." Julie Sorenson, ISU flute instructor, will be the featured soloist. The challenging and dance-like duet, "Wir eilen mit schwachen doch emsigen Schritten (We hasten with eager yet faltering footsteps)" from Bach's Cantata #78, will be sung in German. The choir would like to thank Dan Davis for his assistance with the German dialect. Also featured will be Audrey Snyder's setting of the Langston Hughes' poem, "In Time of Silver Rain." The choir will finish its portion of the program with the haunting a cappella arrangement of the Canadian folk song, "Frobisher Bay" by James Gordan.
The 21-voice ISU Chamber Choir, under the direction of Anderson, will perform the "Mid-Winter Songs" by American composer Morten Lauridsen, composed for mixed chorus and piano. For this cycle, Lauridsen's voracious reading led him to the poetry of the British poet and novelist Robert Graves. To select poems for the "Mid-Winter Songs," Lauridsen read—and reread—the complete corpus of Graves's verse. The composer has testified that he was "much taken with the elegance, richness and extraordinary beauty of [Graves's] poetry and his insights regarding the human experience." Lauridsen chose verse inspired by the poet's obsession with his colorful mistress and muse Laura Riding, as well as poetry that reflected the measure of tranquility that Graves attained with his second wife, Beryl. Lauridsen's piano part serves as a "musical equal" with the choral writing, and offers remarkable tonal and rhythmic energy to the set. ISU Chamber Choir pianist Natalia Lauk will be featured in the performance of "Mid-Winter Songs."
Anderson will conduct the ISU Concert Choir in performance of the Padre Martini setting of "Domine ad adjuvandum me, festina," featuring vocal soloists Jerrica Matthews, Micah Kenney, Trey Croft and Brett Friedman, and pianist Lauk. Graduate student conductor Elissa Jones will lead the Concert Choir in presentation of Sergei Rachmaninoff's "Bogoroditse Devo (Ave Maria)," from the composer's "All-Night Vigil, Op. 37." The Choir will also perform "Noche de lluvia," a Uruguayan folk song, Stacey Gibb's arrangement of "Way Over in Beulah Lan" and "Neighbors' Chorus," from "La jolie parfumeuse" by Jacques Offenbach, also featuring pianist Natalia Lauk.
The ISU Concert Choir will join with the Camerata Singers and Idaho State-Civic Symphony, under the direction of Dr.Grant Harville, for a performance of ELIJAH by Felix Mendelssohn on Friday, April 28, at 7:30 p.m. in Jensen Hall.
Tickets for the March 3 Mid-Winter Choral Concert are available online at www.isu.edu/tickets, by calling or visiting the Stephens Center Box Office at (208) 282-3595, and at the Information Desk in the Pond Student Union. ISU Music Department Ensemble admission prices are $8 for adults, $4 for faculty, staff and precollege students; and free for ISU students with valid Bengal IDs. Children under six years of age are not allowed into ISU Department of Music Concerts.
---
Categories: