Idaho State University announces 'A Season of Note' concert series lineup; season tickets go on sale Aug. 4
July 31, 2017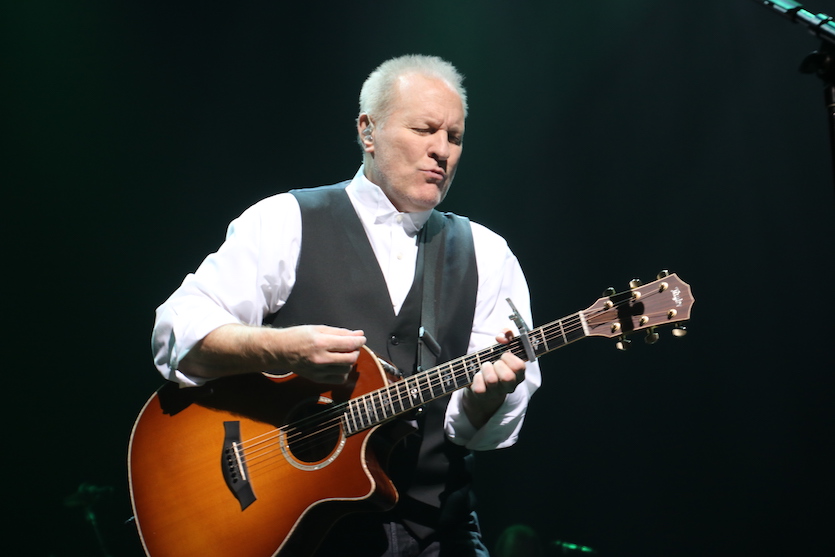 POCATELLO - Idaho State University will host a range of entertainment during the 2017-18 "A Season of Note" series with all performances at the L.E. and Thelma E. Stephens Performing Arts Center's Joseph C. and Cheryl H. Jensen Grand Concert Hall at 7:30 p.m.
Season tickets go on sale Aug. 4.
There are three different season packages available. Package A is for the full season, $250 for main seating and $220 for upper level seating. Package B features Tribute to John Denver, Bellamy Brothers, Collin Raye, Riders In The Sky and Reckless Kelly, $150 main and $130 upper. Package C features David Archuleta, Kathy Mattea, Gaetano Donizetti's "L'elisir d'amore," Collin Raye and Midtown Men, $155 main and $135 for upper.
The upcoming shows are:
• Oct. 5, Chris Collins and Boulder Canyon's Tribute to John Denver ($26 main seating, $22 upper level)
The award-winning Chris Collins and Boulder Canyon present a tribute to the music and legacy of John Denver. With similarities between Collins' and Denver's voices, Collins brings to the stage the unmistakable enthusiasm that was a hallmark of a John Denver concert. Performing famous hits such as "Rocky Mountain High," "Take Me Home Country Roads," "Annie's Song," and many more, Collins and Canyon are committed to keeping the music and message of John Denver alive.
More information is available at bouldercanyonband.com.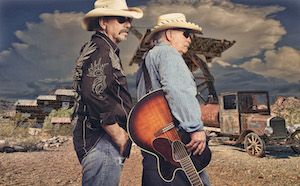 • Oct. 28– Bellamy Brothers – ($40 main seating, $36 upper level)
Howard and David Bellamy continue to prove that the trail they've ridden to fame has been as unique as their music itself—music that is now celebrating 40 years of success. The road that started on the pop music charts in the '70s, took a winding turn into country music in the '80s, paving the way for duos to come, such as Brooks and Dunn, Montgomery Gentry and Big & Rich. But before the road forked into country, the music of the Bellamy Brothers started in their home state of Florida, before going national amidst the '70s pop music culture of Los Angeles.
The Bellamy Brothers latest project is their new album titled "40 Years," a project that celebrates their career with 20 of their biggest hits and then adds 20 new songs in this two-CD anniversary collection.
More information is available at bellamybrothers.com.
• Nov. 3, Opera Idaho Presents Gaetano Donizetti's "L'elisir d'amore" – ($25 Adult $15 children main seating, $21 Adult, $11 children upper level)
One of opera's most endearing comedies, "L'elisir d'amore" features tenor Thomas Glenn and the country-bumpkin Nemorino, Christopher Job as the slippery Dulcamara and the Boise baritone Jason Detwiler as the braggadocious Belcore. This production has been updated to the late 1940s or early 1950s.
The setting, Adina's Nightclub at the end of the USO nightclub craze, allows the drama of the opera to unfold both "onstage" and "offstage," providing big production numbers and intimate moments. Adina is the proprietor of the nightclub and their star chanteuse. Nemorino is the janitor, smitten with his boss. Gianetta is the headwaiter and leader of the club's chorus. Dulcamara is a traveling snake-oil salesman who has come to town with his two assistants. And Belcore is an army officer on leave before his deployment. This production, originally staged for the Resonance Works Pittsburg, won the American Prize in Opera Performance in 2015.
More information is available online at operaidaho.org.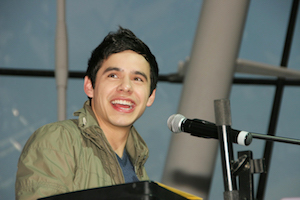 Nov. 18, David Achuleta - ($45 main seating, $40 upper level) David Archuleta became a star when he was just 16. In 2008, more than 30 million viewers fell in love with his angelic voice and their 44 million votes made him runner-up in Season 7 of "American Idol." David's first single, "Crush," debuted at No. 2 on the Billboard Hot 100 chart the week of its release. Archuleta's self-titled album, "David Archuleta," went gold, selling more than 750,000 copies in the United States and more than 900,000 worldwide.
"It was so neat to see how positive fans were about 'Crush,'" Archuleta said of the enthusiastic reception for his chart debut.
More information is available online at davidarchuleta.com.
• Dec. 16 – Collin Raye Christmas - ($38 main seating, $34 upper level)
Collin Raye was one of the true hit makers in the 1990s. Raye still continues to crank out soulful, heartfelt material with the honesty and richness that is signature to his vocals alone. With 24 top-10 records, 16 No. 1 hits, and having been a 10-time male vocalist of the year nominee (five Country Music Association (CMA) and five Academy of Country Music (ACM), this electrifying performer remains one of the great voices of our time.
"In the beginning, I wanted hits and all that," Raye said. "But what drives me now is what music means to people. Songs have landed on me that made me realize there's more to this than I thought. It's about entertaining people one minute and healing them the next. It's kinda like a ministry."
More information is available online at collinraye.com.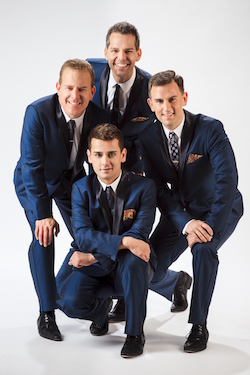 • Feb. 3, 2018 – The Midtown Men – ($38 main seating, $34 upper level)
The Midtown Men reunites stars from the smash Broadway hit musical, JERSEY BOYS: The Story of Frankie Valli and The Four Seasons.
Formed in 2010, the popular vocal group has been widely praised for its signature renditions of the greatest rock and roll songs of the 1960s. Together, they have played more than 650 concerts in North America and China, and have headlined alongside more than 30 symphonies including The Boston Pops and The National Symphony.
Featuring stories and songs, their concerts feature classic songs originated by The Four Seasons, The Beatles, The Beach Boys, The Temptations, and more. Television audiences have enjoyed The Midtown Men on "Good Morning America," "The Today Show," "The Chew," "Katie" and "Access Hollywood."
Their holiday single, "All Alone On Christmas," which they recorded with Stevie Van Zandt and members of Bruce Springsteen's E Street Band, plays yearly across radio airways.
More information is available online at themidtownmen.com.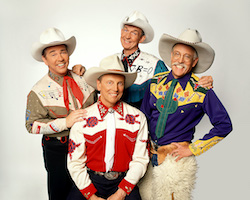 • Feb. 28, 2018 – Riders in the Sky - ($26 main seating, $22 upper level)
For more than 35 years, Riders in the Sky have been keepers of the flame passed on by Gene Autry and Roy Rogers, reviving and revitalizing the genre.
While remaining true to the integrity of Western music, they have themselves become modern-day icons by branding the genre with their own legendary wacky humor and way-out Western wit, all along encouraging fans to live life "the cowboy way."
In addition to being inducted into the Grand Ol' Opry, Riders are in the Western Music Association's Hall of Fame, the Country Music Foundation's Walkway of Stars and the Walk of Western Stars along with Gene, Roy, John Wayne and other cowboy legends.
Along with two Grammy wins, the group has been the Western Music Association's "Entertainers of the Year" six times, and won "Traditional Album of the Year" multiple times.
More information is available online at ridersinthesky.com.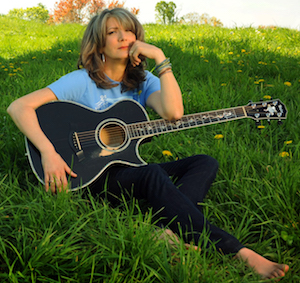 • March 17, 2018 – The Acoustic Living Room Songs and Stories with Kathy Mattea Featuring Bill Cooley - ($26 main seating, $22 upper level)
Kathy Mattea's mainstream country accomplishments have already earned her Grammy, CMA and ACA Awards.
Songs including "Eighteen Wheels and a Dozen Roses," "Where You've Been," "455 Rocket" and more have earned her a place in the West Virginia Hall of Fame.
The Acoustic Living Room Tour began as an experiment in trying out a wide range of new songs and styles with a fresh approach to singing.
It features Bill Cooley, her brilliant long-time guitarist and musical collaborator.
The tour presents the songs and stories of Mattea—in a simple, relaxed presentation that spotlights the duo's acoustic guitar and her expressive vocal style.
More information is available online at kathymattea.com.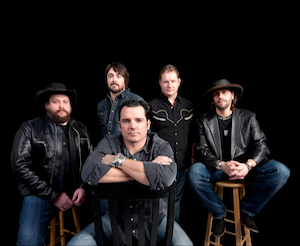 • April 14, 2018 – Reckless Kelly - ($38 main seating, $34 upper level)
In their 20th year, Reckless Kelly continues to do what's made them among the best in the Texas music scene, balancing roots country and rock with original songs centered around rousing and introspective melodies, and dynamic musicianship.
The band's ninth album "Sunset Motel" released last September, has already been named the No. 10 "Best Essential Album of 2016" and scored a 2017 Grammy nomination.
The 2016 album was a follow-up to the band's Grammy-winning, ballad-rich "Long Night Moon" that featured roots-rocking tunes about heartache and indecision including "How Can You Love Him (You Don't Even Like him)," "Moment in the Sun," and "One More Last Time."
Reckless Kelly has a string of other critically acclaimed albums that include "Under the Table and Above the Sun" (2003), "Wicked Twisted Road"(2005), "Bulletproof" (2008), "Somewhere in Time" (2010), and the Grammy–nominated "Good Luck & True Love "(2011) and Grammy-winning "Long Night Moon" (2013).
More information is available online at recklesskelly.com.
For more information on the 2017-18 Season of Note, contact the Stephens Performing Arts Box Office at (208) 282-3595 or visit isu.edu/stephens. Ticket information and purchase is available at www.idahostatetickets.com or by calling the Box Office.
####
---
Categories: