ICOM breaks ground on state's first medical school
May 17, 2017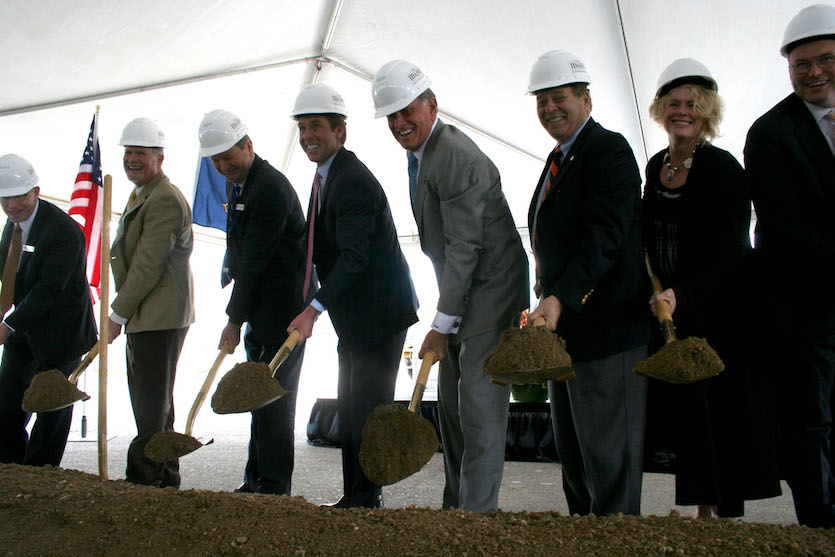 MERIDIAN –State and local leaders, college officials and supporters gathered on the Idaho State University-Meridian campus May 17 to celebrate the official groundbreaking of the proposed Idaho College of Osteopathic Medicine.
"Today marks another major milestone and important next step in the creation of Idaho's first school of medicine," said ICOM President Tracy Farnsworth. "I salute the tremendous vision and courage of our founders and of our many stakeholders who are making this happen."
Speakers included Idaho Gov. C.L. Butch Otter, ICOM Founder Dan Burrell, ISU President Arthur Vailas and ICOM Founding Dean and Chief Academic Officer Robert Hasty.
ICOM, a public/private partnership with ISU, will be adjacent to the ISU-Meridian Health Science Center, 1311 E. Central Drive.
"A medical school in Idaho is long overdue, and ISU looks forward to welcoming ICOM's first class of students on our Meridian campus next year. Today's ceremony comes after much preparation, and it marks a great milestone in higher education for Idaho," Vailas said.
"Our partnership with ICOM will optimize research opportunities and improve patient care in Idaho and beyond," he added.
Architecture firm, Dekker, Perich, Sabatini, designed the state-of-the-art facility which includes a large lobby, admissions, library, simulation spaces, osteopathic manual manipulation lab, standardized patient clinic simulation suite, lecture halls, small group study rooms, and multiple student lounge and support spaces.
The facility will also be supported by the ISU-Meridian Treasure Valley Anatomy and Physiology Laboratories.
Meridian based construction firm, Engineered Structures Inc. will lead the project that is expected to take roughly 13 months to complete.
"Building Idaho's first medical school is a great honor for ESI," said Neil Nelson, president of ESI. "We have a long-standing reputation in health-care construction and we are looking forward to making history with a medical campus that Idaho and surrounding states will be proud of."
The cost of building a modern, high-performance facility in Meridian is estimated to cost upwards of $34 million, all privately funded, and the state of Idaho is expected to gain financially with an economic impact of more than $500 million in the first ten years of full operation.
The three-story tall building will be positioned around a large open courtyard that will be used year-round by students, faculty and staff. Outdoor seating areas and signature elements, such as fountains and iconic signage, will also be incorporated into the site design.
Because of the university/medical school partnership the college colors will complement ISU's iconic black and orange.
"President Farnsworth and I have been traveling the state, cultivating relationships and creating opportunities for our medical students," said Dr. Robert Hasty, ICOM founding dean and chief academic officer. "This is the next step to getting this program moving forward. ICOM will be a real gem to Idahoans, especially those living in rural communities, who deserve to have medical care available to them."
Idaho is ranked 49th for the number of physicians per capita and 50th for lack of primary care physicians per capita in the nation. Idaho is the most populous state without a medical school, and ICOM plans to change those statistics with an estimated 50 percent of ICOM students expected to become primary care physicians.
Affiliations with 22 hospitals, medical centers and health care organizations have been secured for ICOM students to start rotations in 2020. More than $5 million has been allocated for the development of residency programs in the first 10 years.
"This is an exciting time for medical education in Idaho and an exciting time for future doctors who want to study medicine in their home state," said Farnsworth.
The American Osteopathic Association's Commission awarded ICOM its pre-accreditation status earlier this month.
Construction is expected to be completed next summer for classes to begin in August 2018. The medical school will train new osteopathic physicians serving Idaho, Montana, Wyoming, North Dakota and South Dakota.
###
About the Proposed Idaho College of Osteopathic Medicine. The proposed Idaho College of Osteopathic Medicine (ICOM) will be a freestanding, privately funded, separately licensed and independently operated entity located at the Idaho State University-Meridian Health Science Center. As part of the collaboration and affiliation agreement with ISU, ICOM has agreed to a long-term land lease for its facility at ISU-Meridian. While in pre-accreditation status, ICOM cannot solicit nor accept applications from students until provisional accreditation is achieved.
---
Categories: