Grammy-winning artist Amy Grant still loves life on the road; performs May 18 at ISU
April 28, 2017
POCATELLO – After almost four decades of performing hundreds of shows on the road, Grammy-winning singer Amy Grant expressed excitement about performing at Idaho State University on May 18, the final show of her most recent tour.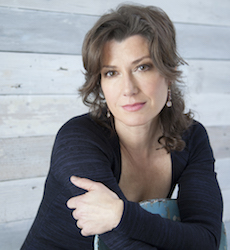 "It feels like the hard work of my career is behind me," Grant said. "Performing now feels like gravy, to enjoy reminiscing and show up and play songs that remind us of earlier chapters in life."
Grant will perform at 7:30 p.m. May 18 in the ISU Stephens Performing Art Center's Jensen Grand Concert Hall, a concert originally set in February that she had to reschedule due to illness.
Though she's never been to Pocatello, she's excited to come.
"One of my greatest joys of doing music is having a chance to see so much of the country over the last 38 years plus," said Grant, who has sold more than 30 million albums. "I have traveled most of the U.S. and Canada and parts of the rest of the world and I love it. I've been lucky to visit so many amazing places."
Grant said she plans to perform songs from throughout her career that began when she was 17. She has six No. 1 hits – including "Baby, Baby" and "Every Heartbeat" – and is one of only two Christian artists to be awarded a star on the legendary Walk of Fame in Hollywood. She's achieved 10 Top 40 pop singles and placed 17 hits on the Top 40 Adult Contemporary chart as well as scoring numerous hits on the contemporary Christian charts.
"I'll try to pick a little bit from each decade I've made music, including some of those songs from the early 80s and even the 70s may make the set list," Grant said. "A lot of times it is the old songs you feel the most connected to."
Grant proved she has kept a sense of humor about performing, saying, "If they shout out 'play such and such song' I'll play it if I haven't forgotten it. There's been a lot of water under the bridge."
When not on the road, Grant stays busy and is involved in a variety of philanthropic causes. When contacted for this interview in late April with nine tour performances coming up in May, Grant was preparing to spend the last weekend of April working with veterans at her farm located about 20 miles outside of Nashville, Tennessee.
"We are offering music therapy for veterans who are suffering from PSTD (post traumatic stress disorder), providing the opportunity for these young veterans to process trauma through music and song," Grant said.
The veterans will be teamed up one-on-one with musicians/songwriters to compose a song and then either perform or have their song performed at the end of the weekend.
"It will give the veterans a chance to tell their story and to revisit it in a different emotional context," said Grant, adding each vet would receive a guitar donated by Bedell Guitars at the end of the weekend.
After her mid-May Pocatello concert, Grant has just one concert scheduled in mid-June and then will take an "Amy Grant Alaska Cruise" in early July where she will sightsee, interact with fans and play music.
"The last time I was on an Alaska cruise was when I was 13 years old and my grandmother took me and my three sisters on a cruise," Grant said. "She was widowed really young and travelled the world and she instilled the travel bug in me. I've invited my sisters to come (on the Alaska cruise) and make some new memories."
Ticket prices for her concert are $44 for main seating and $40 for upper level sitting. Tickets are available at the ISU Box Office in the Stephens Performing Arts Center (1102 Sam Nixon Drive), by phone at 282-3595, online at isu.edu/tickets or at Vickers Western Wear.
For more information on Grant visit amygrant.com.