College of Pharmacy Professor Rebecca Hoover receives national award
February 10, 2017

POCATELLO – Idaho State University pharmacy Clinical Assistant Professor Rebecca Hoover has been named as a recipient of the 2017 American Association of Colleges of Pharmacy (AACP) New Investigator Award.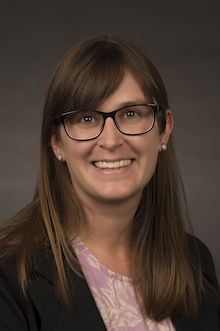 The award provides start-up funding for outstanding early-career pharmacy faculty researchers. Hoover's research looks at how to best teach drug information to health care students who won't prescribe or dispense medications, but either administer medications or have close contact with patients using medications.
"It's been such a great experience teaching students in nursing, physical therapy and dental hygiene in the Kasiska Division of Health Sciences at ISU," Hoover said. "These fields are so important and have a lot of interaction with patients. Advancing the knowledge of these professions and their approach to how they find information on drug products can make a big difference in patient care and safety.
The award is just one of 17 given out this year across the country. In addition to receiving a grant of up to $10,000, Hoover will also receive a $1,000 travel award to present her completed research findings at the 2018 AACP Annual Meeting in Boston.
Hoover joined the Idaho State University College of Pharmacy in 2013 after completing a specialty residency in drug information. Before studying pharmacy, she graduated from the University of Idaho with bachelor's degrees in biochemistry, microbiology and English. She also earned a Master of Business Administration Degree from the University of Nebraska Lincoln. Hoover also serves as the current director of the Idaho Drug Information Center.
---
Categories: