Boise Metro Chamber honors ISU-Meridian for health care excellence
May 11, 2017
BOISE – The Idaho State University Meridian-Health Science Center has taken the top honor for health care industry excellence in the Small Business of the Year & Chamber Excellence Awards competition sponsored by the Boise Metro Chamber of Commerce.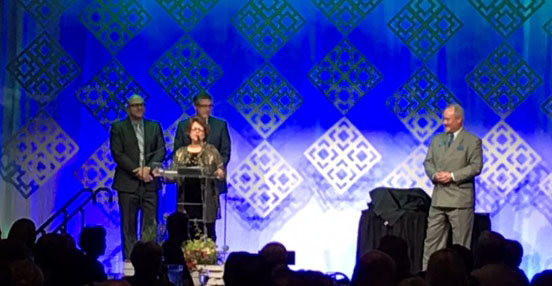 Retired ISU-Meridian associate vice president, Bessie Katsilometes, and Rex Force, ISU's vice president for health sciences, accepted the award May 10 during a luncheon at the Boise Centre.
"Being named as one of the top businesses of the year by the Boise Chamber of Commerce is a tremendous honor and testament to the quality of the educational experience produced by our team," said Force.
"The award is a culmination of the hard work of our faculty and staff. The folks on the Meridian campus, including Bessie Katsilometes, really deserve special kudos," he added. Katsilometes, who retired in September, was instrumental in the growth and development of the Meridian campus.
ISU-Meridian was one of three top honorees in the Healthcare Industry Excellence division—one of six categories in the annual competition celebrating the power and creativity of small businesses and nonprofits in the Treasure Valley.
Nominees and finalists are judged on product or service innovation, staying power, chamber involvement, community projects, business growth and the accomplishments of an organization's chief executive or lead administrator.
ISU began its presence in the Treasure Valley in 1970 with clinical rotations in pharmacy. The Meridian campus, which opened in 2009, offers more than 25 programs in the health sciences and professions, helping ease Idaho's critical shortage of health care workers. Student clinicians and faculty also provide free community health screenings for underserved adults in southwest Idaho.
ISU-Meridian also houses dental, counseling and speech/language clinics which treat thousands of patients each year, improving access to quality care for citizens living on fixed incomes or who have no health insurance.
This spring, ISU-Meridian graduated its largest class ever, conferring 292 degrees—the majority in the health professions.
Photo information: Bessie Katsilometes, retired ISU-Meridian associate vice president, accepts award. Standing directly behind her is Rex Force, ISU's vice president for health science