40-year anniversary of 1977 Idaho State University Elite 8 team
January 6, 2017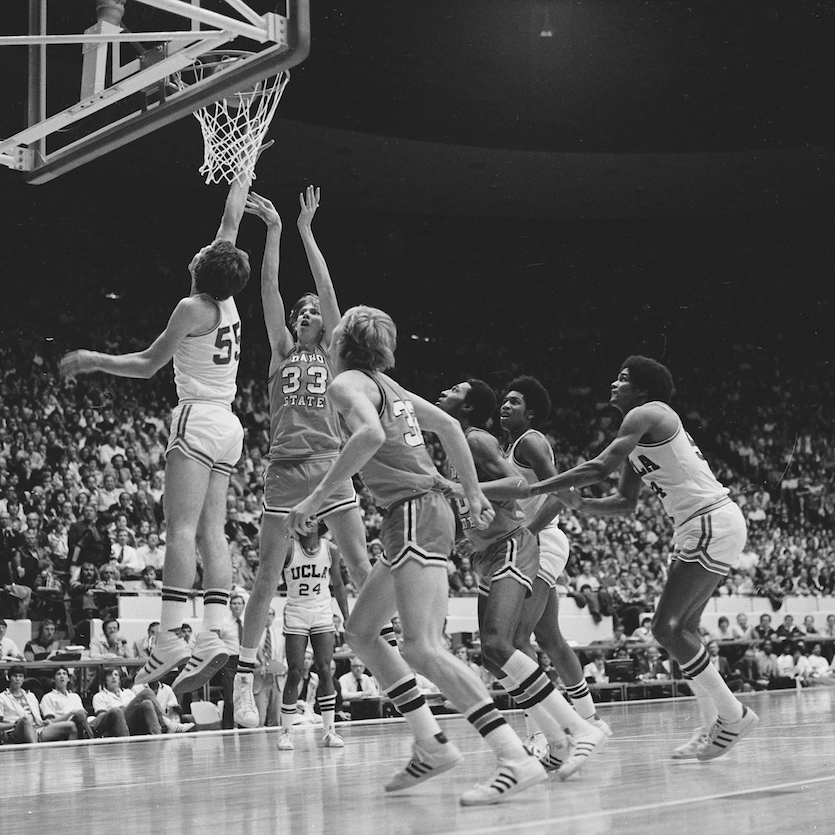 The team will be honored at halftime of the January 14 game vs. Idaho.
POCATELLO – Steve Hayes was a home town guy who grew up in Aberdeen. All he knew growing up was seeing UCLA win National Championships year after year. He never envisioned that he would be a part of a team would beat UCLA in the NCAA tournament. Hayes and the Bengals did just that during the 1976-77 season. The win over UCLA catapulted the Bengals to the Elite 8 and the team finished the year 25-5.

"We didn't have any real expectations other than winning conference and getting to the NCAA tournament," Hayes said. "Once we got there we had confidence that we were better than people thought."

Hayes and members of the 1976-77 team will be honored on Saturday, January 14 at halftime of the game against Idaho in Holt Arena. Fans can attend a reception hosted by Alumni at 6 p.m. inside Holt.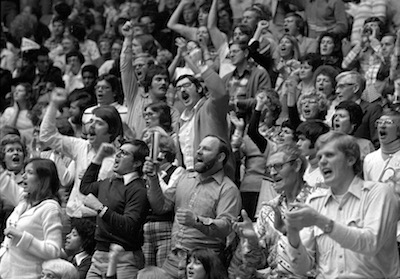 Hayes said he knew his senior season would be special after his junior year when the team finished 16-11 and tied for first in the Big Sky with a 9-5 mark. But a loss to Boise State in the conference tournament sent the team home earlier than expected and hungry for a better finish the following year.

"I knew after my junior season that we would have a good team next year," Steve Hayes said. "We were disappointed we didn't make it out of the conference tournament. We had such a well-rounded team for the Big Sky. The conference was very underrated. It was tough to go to Montana and Weber State and win."

After a 3-3 start to the 1976-77 season, the Bengals reeled off 12 straight wins and jumped out to a 15-3 record. During that stretch ISU recorded wins over Wyoming, Fresno State, Gonzaga and Utah State. Then after a loss at Weber State, a team that would finish 11-3 in league and 20-8 overall, the Bengals won 10 straight before the Elite 8 loss to UNLV in Provo.

"I really think the talent was obviously there," Idaho State's Stan Klos said. "More importantly we were cohesive. We got along and respected each other. We had great talent. Steve Hayes was unbelievable and with Jeff Cook another NBA prospect we were great. We had Greg Griffin who was so quick and I never knew anybody that worked harder than Scotty Goold."

After beating Weber State 61-55 in the conference tournament title game, ISU hosted Long Beach State in the opening round of the NCAA tournament in Pocatello. ISU won 83-72 and advanced to Provo, Utah where it would play National power UCLA in the Sweet 16.

"Having the Long Beach game at home was a nice advantage with the crowd support and comfort," Hayes said. "I was super excited against UCLA. They were the only team I'd seen growing up that won National Championships. We were all excited to be in that big of a game."


The team was confident against the Bruins. What many outsiders don't know is that the confidence came from there head coach Jim Killingsworth.

"We didn't just respect him," Klos said. "We feared him. We all hung together and listened. He had a good vision. One thing Killer (Killingsworth) did extremely well was scouting. I would be Marcus Johnson and he had us watch film. We knew every play they ran. We knew their strengths and weaknesses and which way guys would cut."

According to Fenski, Killingsworth felt that he didn't need to be at the games if he did his job in practice.

"He prepared them well," Fenski said.

Added Hayes on preparation for the UCLA game, "We had a good game plan. We knew how to defend them. Once I got into the game and took the first shot I said, "We can play with these guys."

Idaho State did just that and fans know the outcome, a 76-75 win over the Bruins.

"There was no doubt our guys belonged," said then assistant coach Charlie Fenski. "And they knew it."

According to Fenski the team knew they belonged the week before the UCLA game when they hosted Long Beach State. Prior to the ISU game, Louisville and UCLA played in Holt Arena.

"The guys watched the first half of that game before they came in to get ready for our game," Fenski said. "They all said, 'We can beat these guys.' They saw it. They knew those teams were good but they knew they were good too."

Prior to the start of the UCLA game the media did not give Idaho State the time of day. The attention was all on the Bruins. In a preview written by Sports Illustrated the reporter said, "Does Idaho State offer athletic scholarships? If so why would anyone accept one?"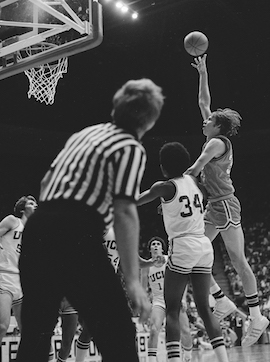 "We were ridiculed for playing UCLA," Glenn Alford, the sports information director at the time said. "It was interesting dealing with the media after the game. Before they ignored me completely. After the game a reporter from Chicago asked me how many people were in Pocatello. I told him, '40,000 and two million potatoes.'"

According to Alford there were 1,000 fans from Pocatello at the game in Provo, Utah and the University of Utah, who played the first game, had 15,000 fans in attendance.

"By halftime they were all rooting for us," Alford said.

To show how big the win was, the Los Angeles Times headline read, "Big Sky Falls on Bruins."

"This was the last great UCLA team," Klos said. "We went up against a team that hadn't missed a Final 4 since 1964. "To hear the crowd and bench erupt was incredible. We had just played and beaten the last great UCLA team of the dynasty."

Hayes said, "It was hard for me to dream about beating UCLA. For us at ISU to do that was surreal. It was like us winning the National Championship and the fans felt the same way. I honestly believe that if we had played UNLV the next week that we would have beaten them."

Now 40 years later the Bengals that played on that team can still recall the season and the emotion of the win over UCLA like it was yesterday.

"I still remember it to this day," Hayes said. "The fact that people still talk about it is fun."

---
Categories: