Tree Houses exhibit opening set Jan. 28 at Idaho Museum of Natural History
January 23, 2017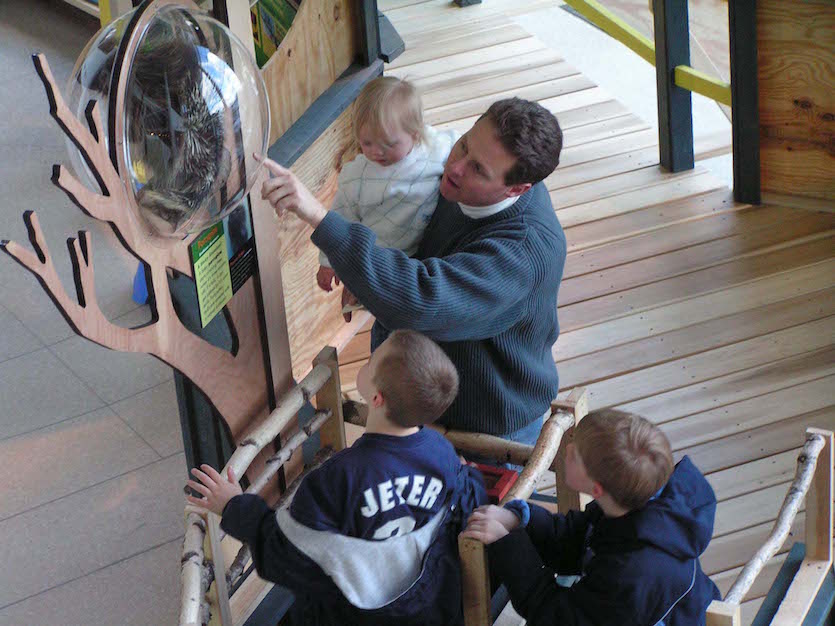 POCATELLO – Who's living in the trees? Join the Idaho Museum of Natural History (IMNH) at Idaho State University from 10 a.m. to 1 p.m. Jan. 28 as it celebrates the opening of exhibit Tree Houses with several activities.
This exhibit includes fun, hands-on ways to explore the important roles that trees play in providing homes for all sorts of wild things, including people. Incorporating all of the senses, this popular exhibit engages forest explorers of all ages in indoor nature explorations and the ecology of sustainable harvesting of this important natural resource.
Activities schedule include:
10 a.m. to 1 p.m. – Build-a-birdhouse in the Discovery Room. This activity is free.
10:15 to 10:45 a.m. – Arik Jorgensen from the Caribou-Targhee National Forest will discuss trees in the lobby in a free presentation.
11 a.m. to 12:30 p.m. – Storytelling with Marshall Public Library in gallery every half hour, included with regular Museum admission.
Tree Houses has plenty for families to enjoy. Visitors walking through an indoor tree house and across a wobbly connecting bridge can look for signs of animal house. Vistors can also play a computerized forest game where they can harvest trees without harming wildlife.
The exhibit also offers the opportunity to view the tree houses people have built around the world – and even design and build their own. There are stereoscopic 3-D images of some of the smaller animals found living in New England's trees. Participants can listen for animals inside a tree house and try to guess their sounds on an "animal dance floor." Visitors can peer down from inside a "crow's nest," and peer down at the folks "on the ground." Favorite fictional tree dwellers featured include the Ewoks of "Star Wars" to Winnie the Pooh. Finally, visitors can wander through a "kitchen" to discover not-so-obvious tree connections in our own houses.
IMNH is open six days a week, closed Mondays. IMNH is located at 698 E Dillon St. in Pocatello, and complimentary parking is provided for patrons in the General Parking Lot 01. For more information, call (208) 282-3168 or visit www.imnh.isu.edu.
---
Categories: