Record turnout for ISU-Meridian's Health Science Experience Night and Pharmacy Open House
October 26, 2017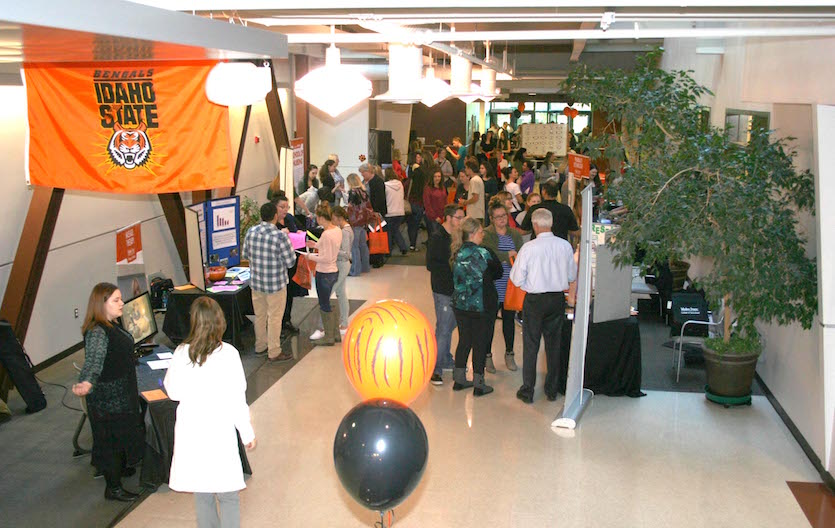 MERIDIAN — An estimated 600 people—including 300 high school and college students—attended the Idaho State University-Meridian Health Science Experience Night and Pharmacy Open House Oct. 24.
Tables filled with Bengal swag and loads of information about ISU health science programs lined the student mall and hallways. Attendees had the opportunity to meet face-to-face with ISU students, faculty and advisers from Pocatello and Meridian campuses.
"This is really cool," said 17-year-old Ashlyn Riddle, a senior at Centennial High School, as she and her mother, Becky, toured the state-of-the-art bioskills, virtual and cadaver labs.
Ashlyn, who will graduate next spring, plans to study nursing, pharmacy or pre-med in college, and she's considering attending ISU. The teen is currently working on her nursing assistant and pharmacy technician certifications at Centennial High.
In the cadaver lab, the two were able to view two human hearts—one from a healthy patient and the other from a patient who'd undergone bypass surgery. Lab technician Cameron Skaggs explained the life-sustaining flow of blood from the heart to muscles.
"It's fascinating," said Becky Riddle, relishing the opportunity to see firsthand why her daughter is drawn to the health sciences.
In the pharmacy compounding lab on the second floor, 18-year-old Jordan Tilman, a Meridian High School senior, uses a pestle to grind candy pieces to simulate how medications can be mixed to meet a patient's needs.
He plans to study sports medicine or athletic training in college and found Health Science Experience Night a great opportunity to explore his options and experience the health professions, thanks to hands-on demonstrations.
This was the 12th annual Health Science Experience, and for the past few years, the College of Pharmacy has hosted its Pharmacy Open House the same night. At the Open House, student pharmacists provided flu shots; free blood pressure, blood sugar and cholesterol checks; and education about diabetes, heart health, prescription drug abuse and poison prevention.
---
Categories: