Portneuf Medical Center Announces $2.5 Million Ongoing Annual Gift to Family Practice Residency Program
December 7, 2017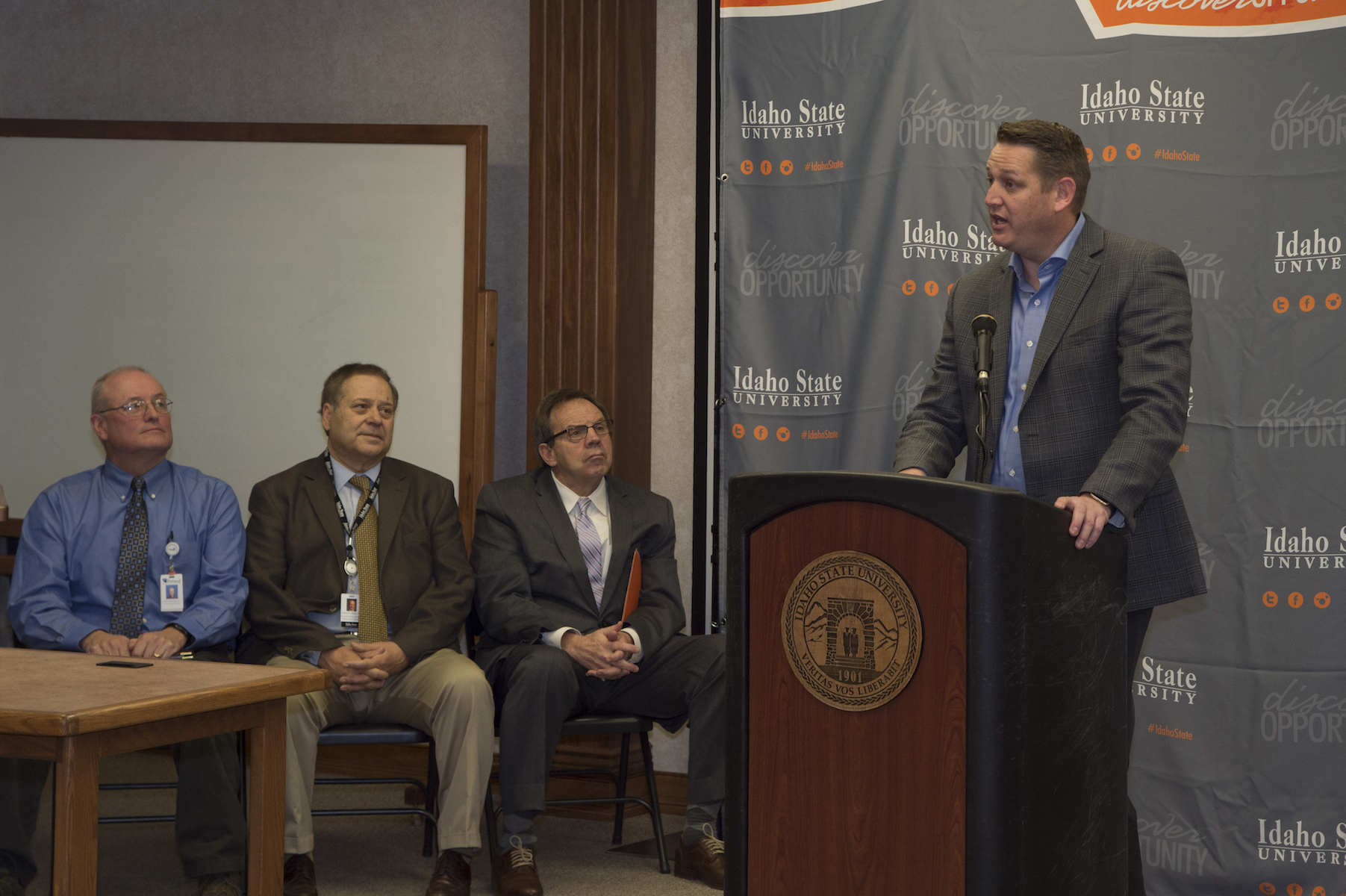 Portneuf Medical Center has announced an ongoing $2.5 million annual gift to Idaho State University's Family Medicine Residency program to help train the next generation of family medicine physicians.
The gift was announced at a press conference Thursday morning. For a decade, Portneuf Medical Center has been a generous supporter of Idaho State, donating more than $20 million and providing sponsorships, scholarships, program and academic support university-wide. In addition to supporting the Family Medicine Residency and the Kasiska Division of Health Sciences, PMC has supported the College of Arts and Letters New Year's Eve Gala, the Bengal Athletic Boosters, Athletics, the ISU Rodeo team and more. They have offered scholarships throughout the university, in the health sciences, and through the College of Business and College of Technology.
"It's quite a thing to have the desire, the will and the generosity to invest in the future of our students," said ISU Vice President for Advancement Kent Tingey. "The university wishes to convey its deepest gratitude."
Family Medicine Director Dr. Brandon Mickelson said PMC's support has played an essential role in making Pocatello Family Medicine Residency one of the premier residency programs in the country. The program is nationally recognized for its obstetrics training, as well as in several other areas.
"PMC is a wonderful partner that helps us in so many ways," Mickelson said. "PMC, along with our partners at Idaho State University and Health West, are essential to our existence."
According to the most recent data from the Association of American Medical Colleges, Idaho ranks 49th of 50 states in terms of physicians per capita. The family practice doctor shortage is felt less in Southeast Idaho because of the presence of the residency, said Dr. William Woodhouse, director of external relations for the Family Medicine Residency program.
"It has been shown that where residents do their residency, they practice," he said.
ISU Vice President for Health Sciences Rex Force said Portneuf's physicians and staff have dedicated thousands of volunteer hours to helping train ISU's next generation of health care professionals.
"This gift highlights the financial support PMC offers, but this partnership is so much more. PMC has opened their doors to our students so they can learn to meet the complex needs of our health care environment," he said. "It's what I like to call a win-win-win-win. Everyone benefits — ISU, PMC, the students and the patients we serve."
President Arthur Vailas said the partnership has helped ISU to provide access to health care across Southeast Idaho.
"This collaboration over the years has shown its commitment not only to our community in Pocatello, but in rural Idaho as well," he said.
Portneuf Medical Center CEO Dan Ordyna said that through its programs and the Family Practice Residency, ISU has shown itself to be a leader in health care education in Idaho, and they are proud to partner with the university.
"Portneuf loves ISU. We believe that this partnership is unique," Ordyna said. "We believe in growing your own, and this partnership is about growing your own."
---
Categories: