ISU to present Opera Idaho's "L'elisir d'amore" and Metropolitan Opera National Council District Auditions Nov. 3 and 4
October 26, 2017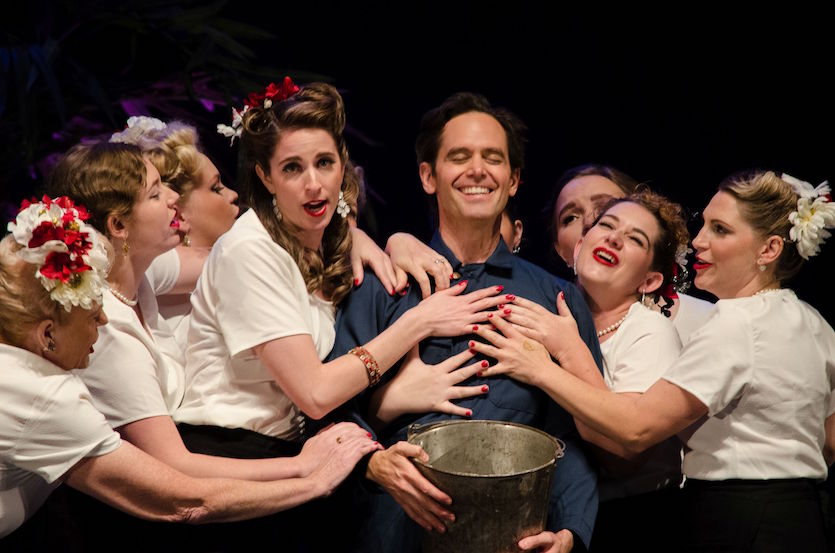 POCATELLO ­– Opera Idaho will present Donizetti's charming comedy, "L'elisir d'amore" in the Jensen Grand Concert Hall in the L.E. and Thelma E. Stephens Performing Arts Center on Nov. 3 at 7:30 p.m.
The production is presented in part by Idaho State University's Season of Note and a generous grant from the F. M. Anne G. and Beverly B. Bistline Foundation. Opera Idaho has updated their production to the late 1940s, and the setting is Adina's Nightclub at the end of the USO nightclub craze. Patrons can be prepared to laugh at the antics taking place in the nightclub between Sargeant Belcore, a shifty traveling salesman named Dulcamara and the poor janitor, Nemorino. "L'elisir d'amore" will be sung in Italian with English supertitles displayed on stage.
Tickets for "L'elisir d'amore" are $25 for adults and $15 for children in the lower level, and $21 for adults and $11 for children in the upper level. Tickets can be purchased at the ISU box office at (208) 282-3595.
Prior to the opera on Friday, the public is invited to attend a masterclass with Maestro Steven Osgood in the Marshall Rotunda of the Stephens Performing Arts Center from 4 to 6 p.m. featuring ISU voice majors. The masterclass is sponsored in part by the College of Arts & Letters Cultural Events Committee. This event is free and open to the public.
On Nov. 4 at 10 a.m. ISU will host the Metropolitan Opera National Council District Auditions. The judges for this prestigious competition will be Clare Burovac, director of artistic operations for Portland Opera; Steven Osgood, general and artistic director for Chautauqua Opera and an assistant conductor at the Metropolitan Opera; and Robin Guarino, film and opera director, also director of Opera at Cincinnati Conservatory of Music.
The National Council Auditions program is designed to discover promising young opera singers and assist in the development of their careers. The auditions are held annually in 14 regions of the United States and Canada. There are 42 districts within these regions and ISU is part of the Idaho/Montana district. Audience members will have the opportunity to vote on their favorite performer after all the contestants have sung.
Tickets for the competition on Nov. 4 are $8 for adults, $6 for faculty and staff, $4 for pre-college students and free for ISU students.
For information on how to get involved, contact Diana Livingston Friedley at lividian@isu.edu or 282-2611.
---
Categories: