ISU to present 32nd annual ISU Choral Invitational Festival on Oct. 21
October 13, 2017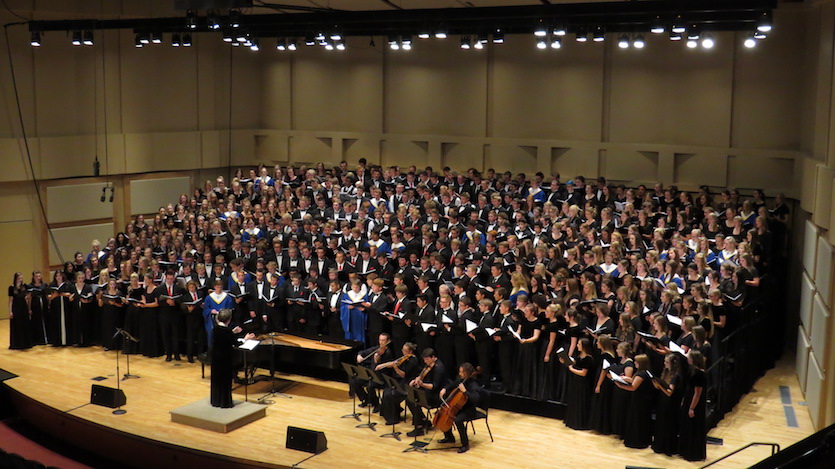 POCATELLO – The Idaho State University Department of Music will present the 32nd Annual ISU Choral Invitational Festival Concert on Saturday, Oct. 21, at 7 p.m. in the Joseph C. and Cheryl H. Jensen Grand Concert Hall in the L.E. and Thelma E. Stephens Performing Arts Center.
The concert will feature nearly 600 students from 17 high schools across Idaho who will participate in a two-day workshop followed by the final concert on Oct. 21. The final concert will feature the ISU Chamber and Concert Choirs, individual high school choir performances, and the choir of 600 singers performing four pieces selected by guest conductor Eph Ehly.
Guest conductor Ehly will direct student workshops and the final concert. He is professor emeritus at the
Conservatory of Music, University of Missouri-Kansas City. He served as interim professor of choral music at the University of Nebraska-Lincoln, Texas Christian University, University of Oklahoma and taught graduate studies at Kansas University. More than 90 doctoral and 100 master's degree students have graduated under his supervision, and hold choral positions around the world.
Ehly is the author of two books published by Heritage Press. He has been honored by Colorado University with the School of Music's "Outstanding Alumni Award." He is the past recipient of the "Mrs. Ewing M. Kauffman Excellence in Teaching Award" and the UMKC Trustees' "Teaching Award for Excellence." He has been twice presented with the AMOCO Foundation "Outstanding Teaching Award." The University of Nebraska-Kearney presented him with their "First Outstanding Alumni Award" and the "Gary Thomas Distinguished Alumni Award." He is also a past recipient of the Missouri Choral Directors Association "Luther Spade Choral Director of the Year Award." One of the most respected choral conductors in the world, Ehly has conducted all-state choirs in all 50 of the United States.
Scott Anderson, ISU director of choral activities, will lead the ISU Chamber Choir in performance of Handel's "O Come, let us Sing unto the Lord," Claudio Monteverdi's Kyrie from "Missa In illo tempore," Arvo Pärt's setting of "Cantate Domino," American pop music singer/composer Billy Joel's "And So it Goes" (arranged for the King's Singers by Bob Chilcott), featuring Bradley Irvine, soloist, and "Soñaba" by Stephen Paulus, with Jacob Knievel, vibraphone and marimba. Natalia Lauk, ISU adjunct faculty member, serves as the pianist for the ISU Chamber Choir.
Anderson will conduct the ISU Concert Choir in performance of the opening chorus of J.S. Bach's cantata "Erschallet, ihr Lieder," Stephen Paulus' chorus "Pilgrim's Hymn," taken from his opera "The Three Hermits," Paul Basler's setting of Gloria (in Latin) from "Missa Kenya," featuring Nicholas Cravens, tenor, Taylor Schultz, soprano, and Jared Vincent, baritone. The Concert Choir will also present Eric Whitacre's excerpt taken from Rudyard Kipling's "The Seal Lullaby," and Mack Wilberg's arrangement of "Bile Them Cabbage Down," featuring Natalia Lauk, piano, Shelbie Russell, fiddle, Trey Croft, tenor, Autumn Harris, soprano, and Matt Spaletta, tenor.
Tickets for the final concert are $8 for adults, $6 for faculty/staff, $4 for pre-college students and free for ISU students. They can be purchased at the ISU Box Office at (208) 282-3595 or isu.edu/tickets.
For more information, contact the ISU Department of Music at (208) 282-2699 or andescot@isu.edu.
---
Categories: