ISU nursing graduate student Bill Sabel receives national award
November 28, 2017

POCATELLO – Bill Sabel, a Doctor of Nursing Practice student in the Idaho State University School of Nursing, has received the 2018 American Association of Nurse Practitioner State Award for Excellence.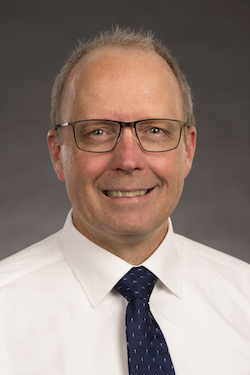 This prestigious award is given annually to a dedicated nurse practitioner in each state who demonstrates excellence in their area of practice. Sabel will be recognized for this achievement during the AAPN National Conference to be held in Denver June 26-July 1, 2018.
Sabel received his Bachelor of Science degree in nursing from ISU School of Nursing in 1991. He then earned the Master of Science degree from ISU School of Nursing in 2002. He will receive the Doctor of Nursing Practice degree from the ISU School of Nursing in December 2017.
He is a certified Family Nurse Practitioner through the American Association of Nurse Practitioners, and has a primary care practice at Intermountain Medical Clinic in Pocatello. He has experience in cardiology, specifically in coronary artery disease risk reduction, congestive heart failure treatment, and heart rhythm alterations.
Sabel worked as a registered nurse in occupational health for the JR Simplot Company and in the Emergency Department at Bannock Regional Medical Center (now Portneuf Medical Center). He has served as a preceptor for Doctor of Nursing students enrolled in the ISU School of Nursing, where he is an adjunct faculty member.
He was honored as Graduate Student Preceptor of the Year 2015-2016 by the ISU School of Nursing. Service to others is a high priority for Sabel, who received the honor Pocatello Free Clinic Extraordinary Volunteer in 2014.
---
Categories: