ISU Leadership Development Program, Home Depot establish food pantry at Hawthorne Middle School
December 22, 2017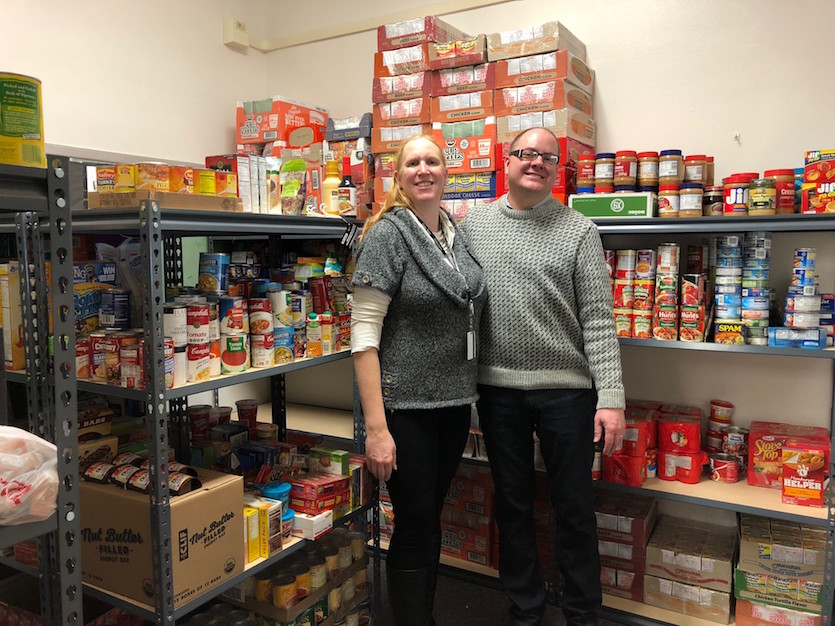 POCATELLO – The Idaho State University Leadership Development Program, offered by the Office of Human Resources for faculty and staff in the fall semester, and Home Depot have helped Hawthorne Middle School establish a food pantry for students in need.
The food pantry opened Dec. 12 and is located near the school's counseling office. It will re-open when school starts up again Jan. 3.
"We called the school district to find out what their greatest need was this semester and they said their biggest need was a pantry for Hawthorne," said Shereen Ainsworth, ISU executive assistant to the president and a member of the fall 2017 ISU Leadership Development Program. "Fifty percent of the students there are on the free or reduced lunch program and there were some students who do not have access to food on weekends."
Members of the ISU Leadership Development Program located on the Pocatello campus put out boxes to collect food and then transferred that food to the school. The group also received help from Home Depot.
"We contacted Home Depot and they were gracious enough to deliver and construct shelving for the pantry at Hawthorne," Ainsworth said.
Members in of the Leadership Development Program raised and donated money to help cover the cost of the donated by Home Depot.
Hawthorne Middle School will implement programs to help keep the new food pantry stocked. The food will be distributed on a need basis.
"We are thankful for all the support we received in creating this pantry," Ainsworth said.
In all, 46 people were enrolled in Leadership Development Program at ISU this semester and were on the Pocatello, Idaho Falls and Meridian ISU campuses. In Meridian, participants donated to the Meridian Food Bank and in Idaho Falls participants contributed to the Snake River Animal Shelter.
---
Categories: