ISU Diversity Resource Center to recognize World Aids Day 2017, speaker to address Idaho Code 39-608
November 17, 2017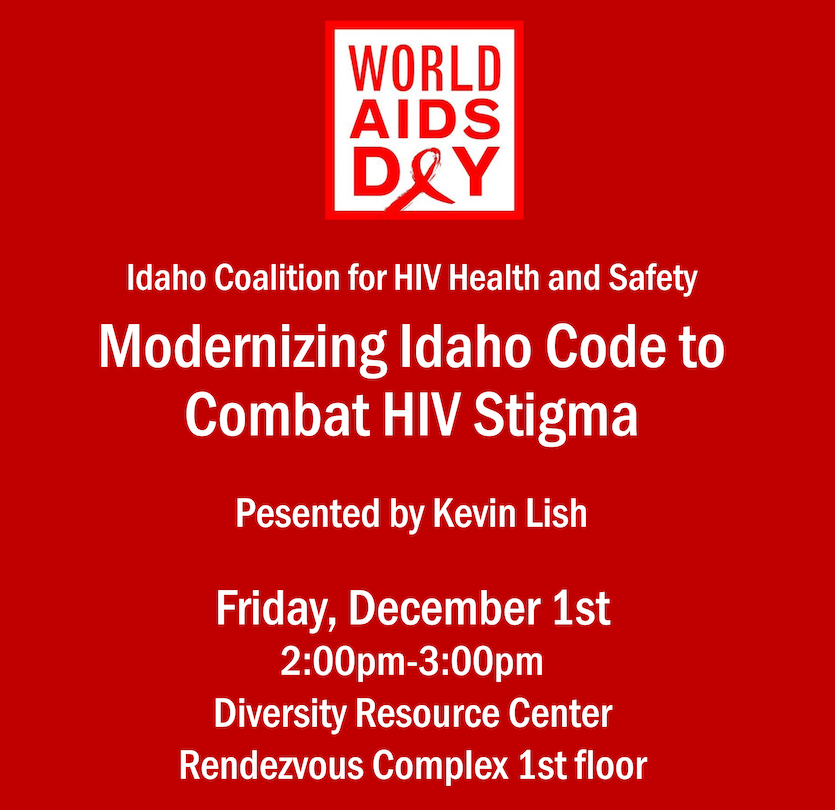 POCATELLO ­– The Idaho State University Diversity Resource Center will host Worlds AIDS Day from 2 to 3 p.m. Dec. 1 in the in the Rendezvous Complex. Kevin Lish, board chair of All Under One Roof and lead member of the Idaho Coalition for HIV Health and Safety, will speak on the coalition's important work to modernize Idaho Code 39-608.
This Idaho code has been used to convict people living with HIV (PLHIV) since first passed in 1988. Most Idahoans convicted under 39-608 are serving sentences for not being able to prove they disclosed their status. The code was written to punish "any person who exposes another in any manner with the intent to infect or, knowing that he or she is or has been afflicted with acquired immunodeficiency syndrome."
Lish will explain this code's contribution to HIV stigma and how it helps keep it alive and well in Idaho.
The Idaho Coalition for HIV Health and Safety was recently awarded a $23,600 Positive Organizing Project Grant from AIDS United. Lish will share the Coalition's 2018 plan to move forward building a Meaningful Involvement of People with AIDS/HIV (MIPA) Coalition in Idaho.
During the event there will be free confidential HIV testing done by All Under One Roof in the Gender Resource Library, Room 201 of the Rendezvous Complex.
Registration is required for the event. To register or for more information about this symposium, contact Stephanie Richardson at 208-282-3590 or richstep@isu.edu.