ISU College of Business MBA-NIATEC graduates become Chief Information Security Officers in major government programs
December 19, 2017

POCATELLO - Three-time Idaho State University graduate, Steven Hernandez was named the new chief information security officer (CISO) for the U.S. Department of Education, starting earlier this month.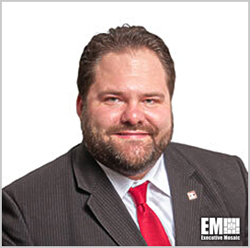 Hernandez originally graduated from the College of Technology with an Associate of Applied Science in electronic systems, then moved on to earn his Bachelor of Business Administration in computer information systems from the College of Business. Hernandez finished his education in the National Information Assurance Training and Education Center (NIATEC) with a Master of Business Administration (MBA) degree also from the College of Business.
Hernandez comes to his new position as the former CISO for the U.S. Department of Health and Human Services Office of Inspector General where he has worked since 2010. In an article published in the spring 2016 edition of the ISU Magazine, Hernandez attributed his career success directly to ISU's programs, "ISU is a pioneer in the cyber security field and I benefitted from this ground-breaking work," said Hernandez in the 2016 article. "My rapid career advancement is due directly to the education I received at ISU, which combines comprehensive technical knowledge with a business background."
As part of the NIATEC program, students are given the opportunity to gain both a business background in the MBA program in addition to working hands-on with real technical and cyber security issues in government. The program offers student scholarships in exchange for helping to design safeguards for governmental cyber security threats. Upon graduating, students will then serve federal agencies such as the FBI as part of this exchange. This placement into government positions often leads to a jump in career advancement for these competitively selected MBA-NIATEC students.
Accredited in 10 areas of cyber security, ISU's NIATEC program is the longest running program in the state (in addition to the University of Idaho's) established over 15 years ago. Due to the curriculum's combination of technical and business aspects, the U.S. Department of Homeland Security and the National Security Agency have also recognized ISU's program as a National Center of Academic Excellence for Cyber Security.
As part of his responsibilities in this new role, the job listing says that Hernandez will manage "the coordination and integration of all aspects of the department's cyber, telecommunications and information security programs," this includes one of the department's major services, the Free Application for Federal Student Aid (FAFSA).
Another MBA-NIATEC graduate, Alma Cole is approaching his one-year anniversary since being appointed the new CISO and executive director of cyber security at U.S. Customs and Border Protection (CBP) in February of 2017.
Cole actually rejoined the CBP as the former CISO in 2012 – 2013 followed by his role as the vice president of Robbins Gioia's cybersecurity business. Cole also served as the director of the Department of Homeland Security's Cyber Operations Center from 2007 to 2012.
Both Cole and Hernandez graduated from the ISU College of Business in 2007.
---
Categories: