Idaho State University's Oboler Library to display metal artwork created by students in new exhibit
October 26, 2017
By Kirsten Cooper, MarCom CPI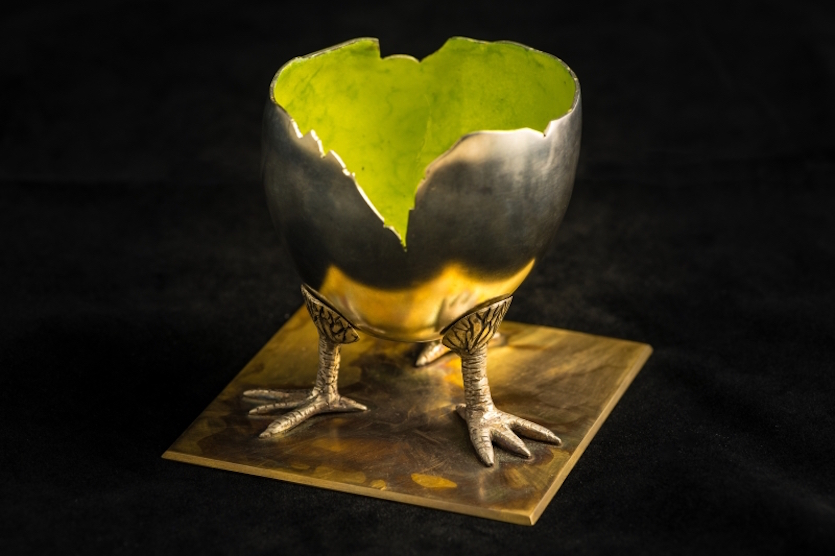 POCATELLO – On Oct. 30, Idaho State University's Eli M. Oboler Library will unveil a new exhibit featuring metal artwork created by ISU art students.
The exhibit will run from Oct. 30 until Nov. 29 in the art section of the library and may be viewed during the library's regular hours of operation.
A free public reception honoring the artists will be held on Nov. 14 from 4:30 to 6 p.m.
The artwork for this exhibit was created by the students of the art department's visiting professor Kristina Glick, who is serving as an advisor to this project.
Alexis Boriboun, the curator for this exhibit, invited the students in the metals classes at ISU this semester to contribute their work for inclusion in this exhibition.
The motivation for this project came from a library display of metalwork by Jeff Davies, a student in the art department and employee of the library.
Davies has created a variety of artworks in metal, including "Fabergé's Nightmare," a silver enamel brass sculpture that won the first place prize in the 8th Annual National Juried Exhibition in Idaho Falls.
"My journey into the realm of metals began six years ago in the ISU art department's introduction to metals class," Davies said. "It seemed inevitable that I would at some point land there, given my lifelong attraction to shiny objects like metals, glass, precious and semiprecious stones, beads and rocks."
He said that the fabrication techniques, decorative processes and principles of design are varied and often challenging, but he is happy to have begun his journey into this part of the art world and will continue as long as he is able to hold a hammer and torch.
In the Introduction to Metals and Jewelry class, students learn basic metalsmithing skills and apply them to the creation of jewelry and small metal sculpture. Emphasis is placed on cultivating visual design skills as well as mastering basic materials and technical processes.
In the Intermediate and Advanced Metals and Jewelry classes, students explore more complex techniques and processes such as enameling, casting, and etching, while developing a personal visual vocabulary and the ability to solve both design and technical problems.
For more information about art exhibits in the Oboler Library, contact Kristi Austin at austkris@isu.edu or (208) 282-4073.
For more information about the ISU art department curriculum or faculty, contact Danielle Gribas at gribdani@isu.edu or (208) 282-2361.
---
Categories: