Idaho State University students promote #ChoosePT campaign to curb opiate abuse
October 17, 2017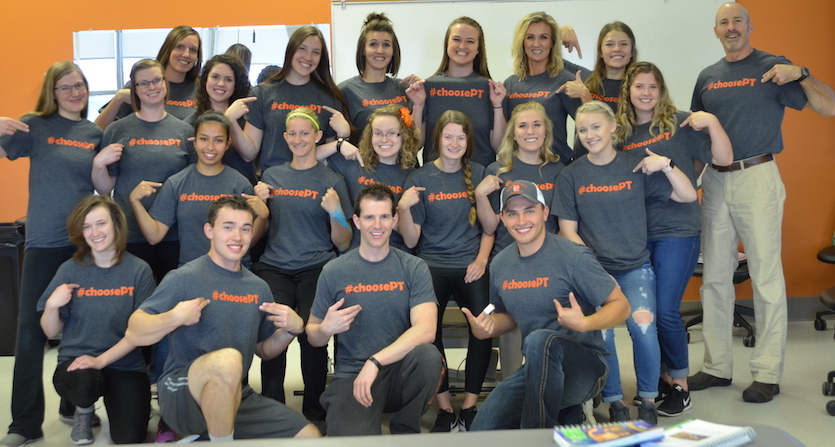 POCATELLO — Idaho State University physical therapist assistant students have joined the fight in the opioid epidemic by promoting the #choosePT movement, a national campaign to inform the public about physical therapy as an option for pain control.
Opioids like codeine, hydrocodone, oxycodone, and methadone are frequently prescribed by physicians for pain associated with surgeries or chronic physical ailments, but opioids are highly addictive and can lead to several harmful side effects with prolonged use. Opioid abuse has become so rampant that it has been labeled as an "epidemic" by the Centers for Disease Control.
Students Shayla Bitter and Krishaun Turner are on the front lines in bringing awareness to Southeastern Idaho. Bitter and Turner are finishing their senior year in ISU's physical therapist assisting program and will be graduating in May with associate degrees in physical therapist assisting and bachelors' degrees in health science. Together with their classmates, Bitter and Turner have reached out to businesses and community partners in the region to raise awareness that physical therapy has been shown in multiple studies to more effectively reduce chronic physical pain than prescription drugs. Community members have responded in large numbers to their efforts.
"A lot more opioids are being prescribed to people [for chronic pain], and people are just get addicted to them," Turner said. "If people would just come into physical therapy, it would help decrease their pain just like the opioids but there wouldn't be any negative side effects. Opioids mask the problem. Physical therapy helps solve the problem."
When asked how his students got involved in such a significant national issue, Darin Jernigan, a licensed physical therapist and the physical therapist assistant program coordinator at ISU, replied that he simply taught his students about the research being done on chronic pain, and they began campaigning on their own. "The evidence-based research out there on the opioid epidemic is saying physical therapy is the only long-term solution to the problem," said Jernigan.
"We're wanting these community members to sponsor this #ChoosePT movement to make people aware, to make them want to be physically fit and go to physical therapy rather than just handing out drugs," said Bitter.
After speaking with Bitter and Turner and the other physical therapist assistant students, several community partners have made financial contributions to the #ChoosePT movement. A complete list of community partners that have joined with ISU students is below. To join the #ChoosePT movement, visit choosept.org.
Center for Orthopedic Rehabilitation
Portneuf Medical Center
Streamlined Sports Chiropractic and Physical Therapy
Superior Physical Therapy
Burley Physical Therapy and Rehabilitation
Our Place: Quick Stop
Physical Therapy Specialists of Idaho
Rehab Authority
Intermountain Logan Regional Orthopedics and Sports Medicine
Meadowland Therapy
ISU Credit Union
Idaho Central Credit Union
Connections Therapy Centers
Madison Memorial Hospital
Olson Family Dental
DJ Concrete Inc.
Recovered Energy
Alligator Pediatric Dentistry
ABM
Slade Farms
Blake Oral Surgery and Dental Implants
Guerrero Brothers Construction
---
Categories: