Idaho State University School of Performing Arts to present Dr. Seuss classic "The Cat in the Hat"
November 7, 2017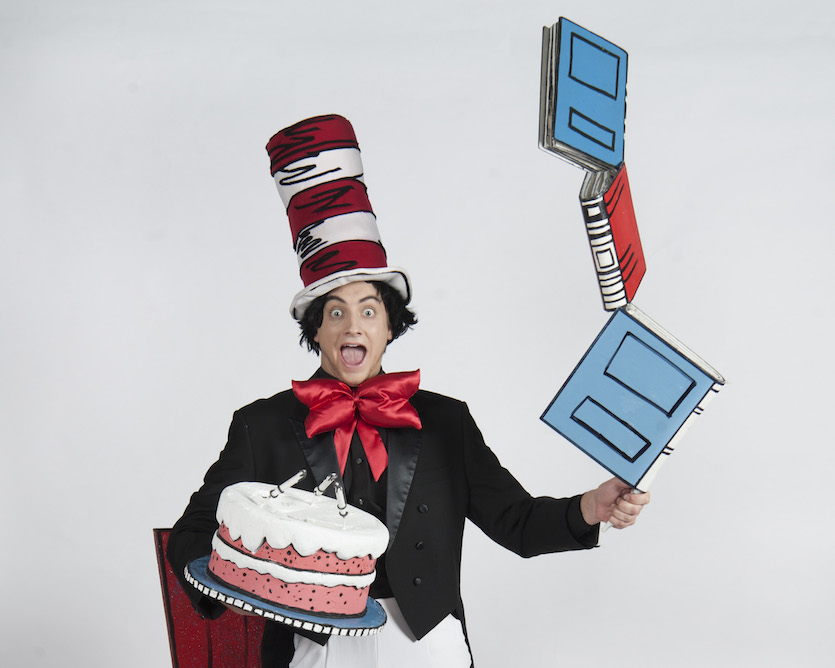 POCATELLO – Idaho State University's School of Performing Arts will bring Dr. Seuss's classic book "The Cat in the Hat" to life on stage on Nov. 11, 13, 17 and 18 at 7:30 p.m. There will also be two matinee performances on Nov. 11 and 18 at 2 p.m.
All performances will take place in the Beverly B. Bistline Theatre in the L.E. and Thelma E. Stephens Performing Arts Center.
From the moment his tall, red-and-white-striped hat appears around the door, Sally and her brother know that The Cat in the Hat is the funniest, most mischievous cat that they have ever met. With the trickiest of tricks and the craziest of ideas, he is certainly loads of fun. He turns a rainy afternoon into an amazing adventure... but what will mom find when she gets home?
"This production has something for everyone," said director Vanessa Ballam. "Inherently it's a kids show but it will also be entertaining for adults, as it is such an iconic book for all of us. Everyone will find it funny, charming, imaginative and compelling."
The production takes Dr. Seuss's original intent for "The Cat in the Hat" and runs with it. The stage, costumes and props were designed to make the performance feel like a pop-up book. Close to 100 props were rented from Childsplay, a children's theatre company in Arizona, and are "Seussified." Faculty member Paul Yeates designed the lighting, student Emily Simms-Gibson oversaw the properties and student Rebecca Waste designed the costumes.
"We feel like this play is a wonderful gift and we can't wait to share it with kids of all ages," Ballam said. "It's going to be a treat for everyone."
The cast includes nine students who have been working hard to bring the production to life for the Pocatello community.
"There is something special about creating a show to be seen through the eyes of children and the student performers cannot wait to have young people in the audience," Ballam said.
Tickets are $10 for general admission and $7 for children. They can be purchased at the ISU Box Office at isu.edu/tickets or (208) 282-3595. The show runs about 60 minutes long with no intermission.
---
Categories: