Idaho State University earns three military-friendly designations for 2018
By By Kirsten Cooper, MarCom CPI | December 5, 2017
POCATELLO – Idaho State University has been recognized by three national organizations for its excellent support of military-bound students and veteran students.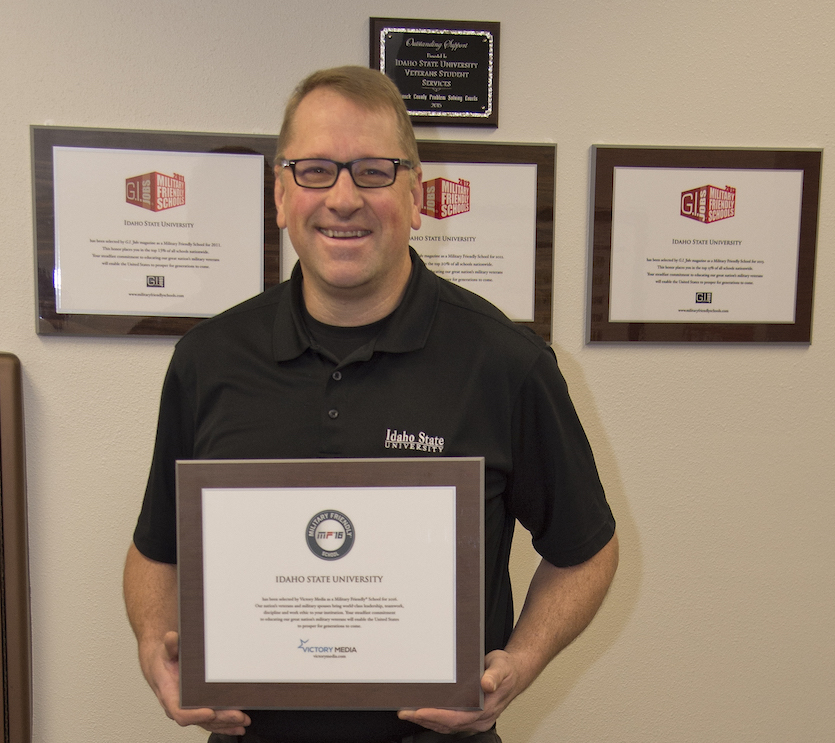 ISU was included in the Military Times Best: 2018 College Rankings, Military Advanced Education and Training (MAE&T) 2018 Guide to Colleges and Universities, and an award for being Military Friendly for 2018 by Victory Media.
In the Military Times Best, ISU was ranked 125 out of 218 schools. More than 600 colleges and universities applied for this distinction.

"Of the hundreds of schools that applied, fewer than half received the Military Times Best: Colleges designation this year. Only the best made the cut," said George Altman, the Military Times editor in charge of the rankings.
Best Colleges 2018 is an editorially independent news project that evaluates the many factors that help make colleges and universities a good fit for service members, military veterans and their families.
Todd Johnson, director of ISU's Veteran Student Services Center, said ISU is dedicated to addressing the needs of veterans returning from Iraq and Afghanistan.
"Over the years, our services have adapted to support the ever-changing needs all individuals, both combat and non-combat service members, who have participated in the various operations in the global war on terror," Johnson said. "ISU also provides support to dependents and family members of veterans and active duty military."
Johnson said that ISU has the best military education benefits team in the state, if not the region. Housed in the Office of the Registrar, the team, led by Kerry Larsen, works diligently to process benefits to reduce the stressors on veteran and military-connected students.
The two-pronged model of the military education benefits team working seamlessly with the student advocacy team in the Veterans Student Services Center provides the greatest range of support possible for ISU students, Johnson said.
Working with trained and supportive campus and community partners, the ISU center has created a veterans-support network that they call "VetWork."
In the last year, the Veterans Student Services Center has added the VITAL Peer Mentoring program and counseling services from Veteran Administration professionals.
On Nov. 13, the new TRIO Veterans program was launched. This program will expand the recruitment and transition support of veterans transitioning from the military to academic life with layers of support, resources and encouragement.
"Housed in the Veteran Student Services Center, the TRIO veterans program will be a tremendous addition to the veteran resources available at ISU," Johnson said.