Idaho State University Department of Theatre and Dance announces 2017-18 season
August 14, 2017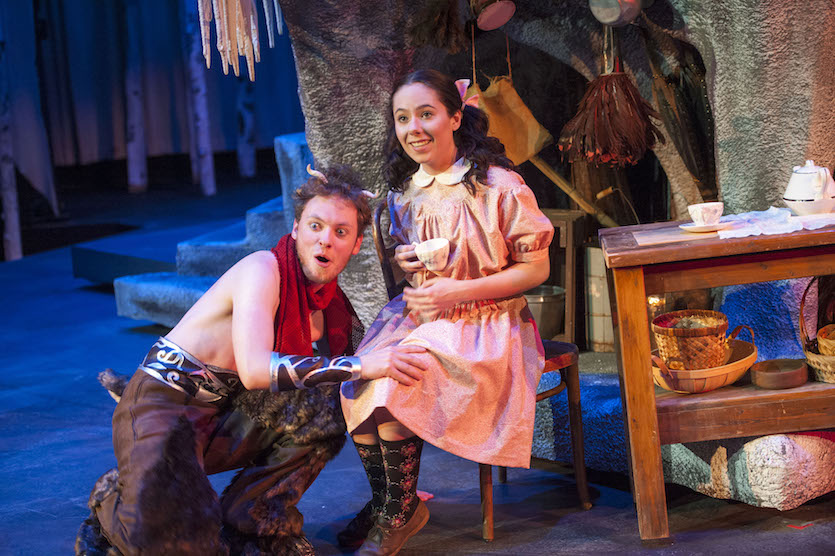 POCATELLO – From classic to contemporary, Dr. Seuss to opera, Idaho State University's Department of Theatre and Dance will offer a great selection of productions for the 2017-18 season.
This season's productions will feature two prominent guest artists, choreographer Lenora Lee with students of the dance program, and a performance of Shakespeare's "The Taming of the Shrew" directed by guest artist Lenny Banovez. Banovez will also lead ISU's advanced acting students in an intensive workshop featuring Professors Vanessa Ballam and Stefan Espinosa as members of the cast.
"This is one of the most diverse seasons we've done," said Norm Schroder, theatre and dance department chair. "It is the goal of our department to bring a wide range of literature and performance styles to our audience."
Season ticket vouchers are currently available and are $45 for any four performances. This can be four admissions to a single performance, or single admission to four performances. Contact Julie Hillebrant at (208) 282-6452 or hilljuli@isu.edu to purchase season ticket vouchers.
Single performance tickets are also currently available at isu.edu/tickets or the ISU box office at (208) 282-3595. Tickets are $15 for general admission, $14 for seniors, faculty, and staff, $10 for children and $7 for ISU students with ID. Tickets for "Cat in the Hat" are $10 for general admission and $7 for children and students with ID.
The season will include:
"The Crucible," by Arthur Miller, Oct. 6, 7, 12, 13 and 14 at 7:30 p.m. in the L.E. and Thelma E. Stephens Performing Arts Center (SPAC) Black Box Theatre. The story focuses on a young farmer, his wife and a young servant-girl who maliciously causes the wife's arrest for witchcraft. The farmer brings the girl to court to admit the lie—and it is here that the monstrous course of bigotry and deceit is terrifyingly depicted. The farmer, instead of saving his wife, finds himself also accused of witchcraft and ultimately condemned with a host of others. "The Crucible" was the winner of the 1953 Tony Award for Best Play. This exciting drama about the Puritan purge of witchcraft in old Salem is both a gripping historical play and a timely parable of our contemporary society.
"Taming of the Shrew," by William Shakespeare, Oct. 28 and 30 at 7:30 p.m. in Frazier Hall's Diane and Chick Bilyeu Theatre. Baptista, a rich Paduan merchant, announces that his fair young daughter, Bianca, will remain unwed until her older sister, Katharina, a hellish shrew, has wed. Lucentio, a student and the son of a wealthy Pisan merchant, has fallen in love with Bianca. He poses as a tutor of music and poetry to gain entrance to the Baptista household and to be near Bianca. Meanwhile, Petruchio, a fortune-hunting scoundrel from Verona, arrives in Padua hoping to capture a wealthy wife. Hortensio, another suitor of Bianca, directs Petruchio's attention to Katharina. When Hortensio warns him about Katharina's scolding tongue and fiery temper, Petruchio is challenged and resolves to capture her love. Hortensio and another suitor of Bianca, Gremio, agree to cover Petruchio's costs as he pursues Katharina. Professors Vanessa Ballam and Stefan Espinosa headline the cast. The production is sponsored by a F.M., Anne G. and Beverly B. Bistline Grant, so admission is free. It will be directed by guest director Lenny Banovez.
"Cat in the Hat" by Katie Mitchell, Nov. 11, 13, 17 and 18 at 7:30 p.m. in the SPAC Beverly B. Bistline Theatre. From the moment his tall, red-and-white-striped hat appears around the door, Sally and her brother know that The Cat in the Hat is the funniest, most mischievous cat that they have ever met. With the trickiest of tricks and the craziest of ideas, he is certainly loads of fun. He turns a rainy afternoon into an amazing adventure... but what will mum find when she gets home? Matinee performances available on Nov. 11 and 18 at 2 p.m. It will be directed by Vanessa Ballam.
"Voices," Dance Concert, Dec. 7, 8 and 9 at 7:30 p.m. in the Bilyeu Theatre. A special collaborative dance concert in conjunction with a week-long ISU symposium, "SURVIVING VOICES: Stories of Violence Against Women and the Persistence of Hope." The performances will feature original choreography by Lenora Lee, a San Francisco based dancer, choreographer and artistic director. Lee has taught and choreographed with a wide range of universities and dance companies throughout the United States and internationally. Lee will work with ISU dance students, and the concert will feature works choreographed by ISU faculty. The opening performance will be preceded by a short presentation by Christine Hart, an international expert on women's rights, at 6 p.m.
"Stop Kiss," by Diana Son, Feb. 9, 10, 15, 16 and 17 at 7:30 p.m. in the SPAC Black Box Theatre. The play is described by Variety as "a poignant and funny play about the ways, both sudden and slow, that lives can change irrevocably." Fractured and, at times, brutal, "Stop Kiss" is about the subtler effects of living in a society in which intolerance is an unspoken fact. After Callie meets Sara, the two unexpectedly fall in love. Their first kiss provokes a violent attack that transforms their lives in a way they could never anticipate. The Los Angeles times stated, "To love is to declare oneself, and 'Stop Kiss' should speak to anyone who has had to search deep within to find the strength and conviction to join hands with another. I can't remember when a love story has moved me more." It will be directed by Stefan Espinosa.
"Our Town" (Opera), by Ned Rorem and librettist J. D. McClatchy, April 6, 7, 12, 13 and 14 at 7:30 p.m. in the Bilyeu Theatre. "Our Town" is a three-act opera, and is the first opera to be adapted from the Thornton Wilder play of the same name. "Our Town" tells the story of the fictional American small town of Grover's Corners between 1901 and 1913 through the everyday lives of its citizens. Directed by Vanessa Ballam.
---
Categories: