Idaho State University announces receipt of $1.3 million Upward Bound Grant to help veterans pursue higher education
November 13, 2017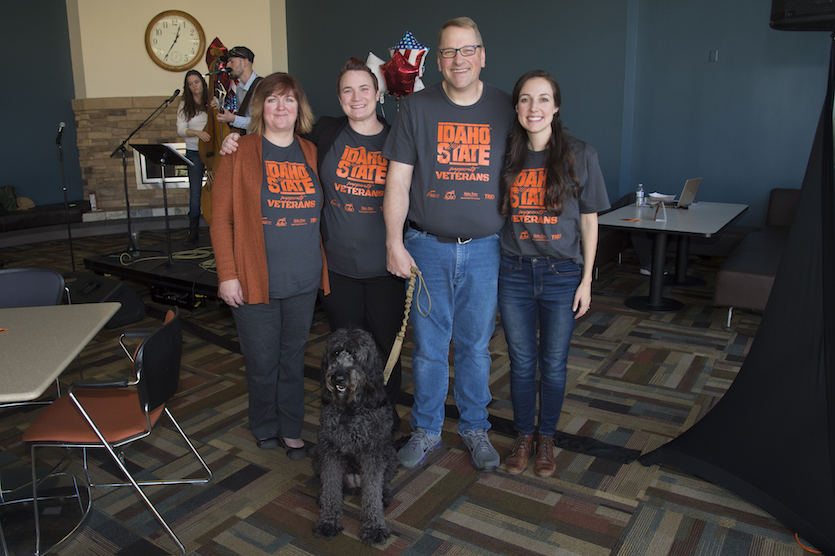 POCATELLO – Idaho State University announced the receipt of a $1.3 million TRIO Veterans Upward Bound grant for a pre-college program to help veterans pursue higher education, at an event honoring veterans at ISU Monday, Nov. 13.
The TRIO Veterans grant received by ISU is only one of two awarded in the entire Northwest this year, said Sari Byerly, executive director, ISU TRIO Access and Opportunity Programs. It will be administered through ISU, but will be used to help Southeast Idaho veterans enter any institution of higher education they choose.
This new program will address the needs of area veterans through intensive academic remediation, career exploration, test prep, college application guidance and financial aid education.
"ISU is committed to supporting the TRIO Veterans program," Byerly said. "This program will help veterans get their skills up and get them where they need to be when they enter college, and to use their time in college efficiently."
The five-year grant will allow TRIO to hire a director and two advisors. The director and one advisor will operate in Pocatello out of the ISU Veterans Student Services Center and one advisor will work in Idaho Falls from a location to be announced.
"The ISU Veterans Student Services Center in particular will be an asset to TRIO Veterans staff and students," Byerly said. "Since it is the Veterans Student Services Center's mission to serve enrolled ISU veteran students, the partnership is natural and mutually beneficial."
Among other things, the grant covers instruction in math, English and science.
"It will cover the developmental coursework someone might need to jump into their postsecondary program," Byerly said.
The leadership team that brought this grant to ISU was Amy Christensen, director of the ISU College of Technology Successful Transition and Retention Track program, Misty Prigent, instructor/coordinator for the Bengal Bridge program, Todd Johnson, director of the Veterans Student Services Center, and Byerly.
"The TRIO grant will allow us to market to a population of veterans that need to come into school and give us a recruiting option we've never had before," Johnson said. "It will gives as an ability to reach out to veterans who want to come to school but don't know how and reach out to veterans who may have benefits but don't know how to use them. It is going to be a great way to get them in and have a conversation about going to school."
The grant will focus on recruiting some of the approximately 16,000 veterans now living in Bannock, Bingham, Bonneville, Jefferson and Power counties and on the Fort Hall Indian Reservation. The program's goal is to begin serving participants by mid-January and have 125 veterans enrolled for fall 2018.
For more information on the new grant, contact ISU TRIO, 208-282-3242.